Get Carter
(1971)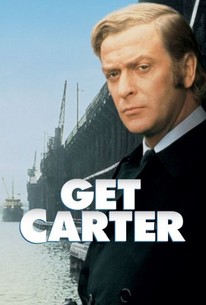 Movie Info
This action film stars Michael Caine as a powerful British gangster out for blood. His brother has been murdered in Newcastle, prompting Caine to declare a war on other racketeers. Now that he is a loose cannon, Caine must be eliminated, a job that falls to the his brother's assassin.
Critic Reviews for Get Carter
Audience Reviews for Get Carter
A been-there-done-that hit man from swinging London returns to his grimy industrial hometown roots in Newcastle to bury his brother. All hell's about to break loose baby. Michael Caine looks and acts the part beautifully, and the insider's view of non-touristy England is worth the trip alone. There might be some indiscriminate killing in this, and some gunplay.
Kevin M. Williams
Super Reviewer
This is a classic action thriller that features an engaging storyline and a blistering performance by iconic actor Michael Caine. Get Carter is an engaging picture, one that delivers some genuinely tense moments, and relies on terrific performances from its cast to elevate the story. The direction by Mike Hodges is terrific, and the film is brilliantly shot, and it keeps you engaged from start to finish. I've always enjoyed Michael Caine's work, and here is he is simply terrific in the role of Jack Carter, and in my opinion, it is one of his best roles. The film's script is solid, and the film has a steady buildup, which keeps you involved. There are moments are genuine tension on-screen, and the film has good action as well. Action films of the 70's were some of the finest because they didn't rely on fancy stunts, computer imagery and poorly staged action scenes. These films were far better because of it and in many ways more exciting because, the story and acting were far better than what most action films of today possess. Get Carter successfully mixes action, thrills, tension into one memorable picture that is engaging from start to finish. With Get Carter, you get one of the finest films of the genre, and it makes you realize that terrific action films like this are better because filmmakers and actors put a lot more effort into making them exciting. Get Carter joins other great films like The Mechanic, Dirty Harry and Death Wish as one of the most memorable of the 1970's actioners. If you enjoy classic action films, you're sure to enjoy this one. At times, it does leave room for improvement, but nonetheless, the performances are what keeps you involved, and the direction and well executed action scenes more than make up for its few imperfections.
[img]http://images.rottentomatoes.com/images/user/icons/icon14.gif[/img]
Directors Cat
Super Reviewer