Breakdown
(1997)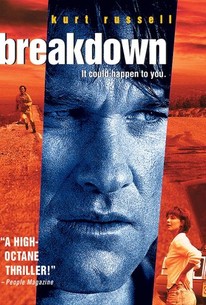 Movie Info
Focusing more on building suspense than slam-bam action sequences, this taut thriller follows an ordinary man's struggle to locate his beloved wife, who simply vanished after a car breakdown led her to hitch a ride with a friendly trucker who later denies ever having seen her.
News & Interviews for Breakdown
Critic Reviews for Breakdown
Audience Reviews for Breakdown
½
A very good thriller, well acted and with a good story to. It as some great scenes, action and tension all the way. Quite a few well known faces in this, surprised it slip me by!
A plain old bad movie with a ridiculous plot and no logic. The first thirty minutes was sort've interesting, but after that it just takes a trip to crazy town. It just becomes the most ridiculous plot that has no base in reality. They tried to attempt blending abduction with action and it just didn't work.
Conner Rainwater
Super Reviewer
½
"Breakdown" is without a doubt one of the best action movies I've ever seen, and one of the more overlooked. It's about a married couple that get stranded after their car breaks down in the desert. A truck driver (J.T. Walsh), convincingly urges Kurt Russel that he will take his wife to a nearby phone so she can call for help. However, that's when Russel's wife gets kidnapped and this movie really starts to roll. Kurt Russel goes on an action packed adventure to try to find his wife and when he finally finds where she's at, the suspense gets more intense than just about any movie I've ever seen. I don't see why "Breakdown" wasn't one of the biggest blockbuster hits of the 90's. Kurt Russel puts on one of his best performances ever and J.T. Walsh plays his role as the main villain as close to perfection as any other actor ever has. "Breakdown" has many of the best and most suspenseful action sequences you'll find in any movie. You wouldn't really know that the music stars aren't actors for a living cause they do a great job. There's not many movies that I'll watch twice within a week, but "Breakdown" was so good I watched it 4 times the first week it premiered on cable. I also told all my friends and family how good it was and that they needed to watch it. I taped it the last time I saw it and it's still on my list of one of the best action movies of all time and it always will be. It is also one movie you will never forget. If you like action movies with great suspense and non-stop action, "Breakdown" is one movie you can't miss.
Jason Owens
Super Reviewer
Breakdown Quotes
There are no approved quotes yet for this movie.