Trial and Error
(1997)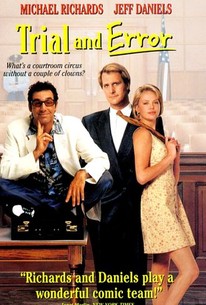 TOMATOMETER
AUDIENCE SCORE
Critic Consensus: Trial and Error gets some laughs out of the comedic chemistry between its pleasantly mismatched leads, although the results are still somewhat less than memorable.
Movie Info
Up-and-coming L.A. corporate lawyer Charles Tuttle (Jeff Daniels) is going to marry his wealthy boss's beautiful daughter Elizabeth (Alexandra Wentworth), but first he must head to a remote Nevada town to help his employer's rapscallion relative out of a legal bind. It's all routine for Charlie until his bumbling best buddy Richard Rietti (Michael Richards), a cut-rate actor, decides to throw him a surprise bachelor party in the desert. Richard means well and throws one enormous bash. Unfortunately, Charlie gets totally plastered during the party and the next day is too hung-over to move, let alone go to court. Richard volunteers to go in Charlie's stead and ask for a continuance -- after all, he is an actor. What could go wrong? Unfortunately everything, for both the local District Attorney and the judge refuse to delay the trial. Both are anxious to put long-time con man Billy Gibbs (Rip Torn) away for good. Since they think Richard is Charlie, the actor and the lawyer have no choice but to maintain the status quo and hope that no one discovers their ruse. Charlie does his best to teach Richard the legal ropes, but it is an uphill battle all the way. Along the way, Charlie meets an earthy local girl, Billie Tyler (Charlize Theron) who forces him to reevaluate his life. Essentially a fish-out-of-water comedy, the film attempts to strike a few more serious underlying notes along the way. The film is the first in which television character actor Michael Richards, best known for his hilarious portrayal of 'Kramer' on the sitcom Seinfeld, receives top billing.
Critic Reviews for Trial and Error
Audience Reviews for Trial and Error
considering all the talent this project had to offer its a shame nothing really comes together. the main issues are the mismatched pairing of Richards & Daniels which doesn't work. Richards doesn't really offer the humour he does from Seinfeld which is why this film stayed off everyones rader back on its release. Daniels has proven he is capable of comedy roles but he is unable to inject anything remotely resembling a likable character. Theron is quite good in a thankless role but allows Daniels to share some meaningful screen time with. I really wanted to like this film but it is poorly directed and the jokes miss more then they hit.
Brendan O'Connor
Super Reviewer
½
Okay comedy with a witty title. Jeff Daniels and Michael Richards make a good mismatched-buddy team, and to his credit after the first 15 minutes Richards manages to inhabit his character without too many reminders of Kramer. Charlize Theron is very winning in an early supporting role as Daniels' love interest. Seems they forgot this was a comedy after an hour, instead adding an ill-advised romance between Richards and Jessica Steen who actually provides a worthy adversary. Final verdict: with plenty of opportunities for satire or slapstick available, it should have been funnier.
Doctor Strangeblog
Super Reviewer
Director Jonathan Lynn makes another courtroom delight, following the success of My Cousin Vinny. Michael Richards delivers the expected Dramer-esque slapstick he became famous for on TV's Seinfeld, but then allows his character a more serious and rational side.
Dean McKenna
Super Reviewer
Trial and Error Quotes
| | |
| --- | --- |
| Elizabeth Gardner: | Where do you come from? |
| Richard Petti: | Where do you want me to come from? |