Nothing to Lose
(1997)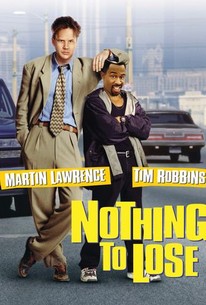 Movie Info
Two men with nothing in common become unlikely companions in this comedy. Advertising executive Nick Beame (Tim Robbins) is not having a good day when he comes home from work to discover that his wife Ann (Kelly Preston) is having an affair with another man -- who, adding insult to injury, happens to be his boss, Phillip Barrow (Michael McKean). Deeply depressed, Nick hops into his SUV and starts driving aimlessly. He ends up in a rough neighborhood where a carjacker, T. Paul (Martin Lawrence), pulls a gun and jumps in the passenger seat. Nick grumbles "Boy, did you pick the wrong guy on the wrong day," and, thinking he has no reason to live, heads out to the desert over T. Paul's objections. Nick learns that T. Paul is actually a family man who has turned to crime because he can't get a job. Nick offers to help T. Paul, though crime is not one of his strong suits, and things get even more complicated when a pair of crooks, Rig (John C. McGinley) and Charlie (Giancarlo Esposito), start following them.
Critic Reviews for Nothing to Lose
Audience Reviews for Nothing to Lose
½
04/09/2011 (ONLINE) FUNNY! I enjoyed this awkward partnership that made things dangerously hilarious. Putting oil with water only causes separation but if you shake things up you have "Nothing to Lose" right? This is old-school for me and seeing it now still has me bursting with laughter, not only that but a pretty dramatic situation that intensifies the humor... hoping for the best and laughing at the worst. You got nothing to do? Put this on... kick back... you got "Nothing To Lose".
EightThirty .
Super Reviewer
Hilarious. Tim Robbins and Martin Lawerence make a surprisingly brilliant comedy act. Must see film!
Bethany Murphy
Super Reviewer
Doesn't even deserve half of a star.
Cassie Hill
Super Reviewer
Nothing to Lose Quotes
There are no approved quotes yet for this movie.