Jack Frost
(1996)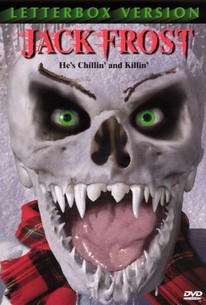 Movie Info
In this low-budget horror outing, a psychopathic killer loses the last of his warm feelings for humanity after he is involved in a freak accident.
News & Interviews for Jack Frost
Critic Reviews for Jack Frost
Audience Reviews for Jack Frost
Jack Frost is a very interesting comedy horror film. I thought the idea of a killer snowman film was interesting, and the poster art was cool too. So I gave this one a shot, and to my surprise, quite enjoyed it.The film is a B movie, but it manages to be a lot of fun. This is the type of film that one must shut off your brain to enjoy. I think that this film is underrated a bit. Yes, it's silly, bad and unbelievable, but that's the whole point of this film. I don't think the filmmakers tried to do something serious with this film. The result is a humorous comedy horror film that has many chuckles thrown in. I liked this film, and I appreciate the change of pace of the usual formula that most horror comedy tends to use. Jack Frost is different, and that's what I found refreshing. I enjoyed the silliness of this film and the second film. If you're in the mood for something fun and different and enjoy a decent B movie, then this is the film for you. Sure the film is uneven, but it does succeed in being entertaining, and if you can get by the fact that it's really silly, then you're sure to enjoy this film. Not a great film, but good enough to be an interesting hour and thirty minutes. A cool little horror comedy with more laughs than actual horror, a fun film to watch with friends.
Possibly one of the worst Horrors ever made, it?s way too ridiculous an idea to be scary, it?s watchable, just to see how bad this is.
Lady D'arbanville
Super Reviewer
Oh dear this is as bad as it sounds, even for a comedy horror. Killer snowman says it all, funny one liners but you'll just be laughing at the effects, acting, story more than anything else.
Jack Frost Quotes
There are no approved quotes yet for this movie.