George of the Jungle
(1997)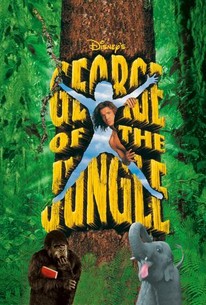 TOMATOMETER
AUDIENCE SCORE
Critic Consensus: George of the Jungle is faithful to its source material -- which, unfortunately, makes it a less-than-compelling feature film.
George of the Jungle Photos
Movie Info
With its deft blend of slapstick, sharp humor and movie satire Jay Ward's late '60s cartoon George of the Jungle, provided a refreshing break from the insipidness of most Saturday morning cartoons. While many naysayers did not feel it possible, this charming and funny live-action Disney adaptation stays true to the spirit of the original cartoon. An animated prologue explains how George came to be raised in the jungles of Bukuvu by the highly-educated talking primate Ape (voiced by John Cleese). The story jumps ahead a couple decades and Tarzan-like George (Brendan Fraser) has grown up. Unlike Edgar Rice Burrough's jungle man, George, while dashing and handsome, is a total klutz with a tendency to swing smack into trees or other immovable objects every time he takes to a vine. Ape and his faithful elephant Shep (who thanks to clever special effects acts exactly like an enthusiastic dog) are his primary companions until one day George rescues sexy San Francisco socialite Ursula Stanhope (Leslie Mann) from a deadly situation. This doesn't set well with her fiance Lyle Van de Groot (Thomas Haden Church) who had earlier shown up to surprise her. Back at George's tree house, the dashing swinger finds himself puzzled by the strange inner promptings that arise when Ursula is near. Ape does his best to explain, but simple doesn't know enough about human reproductive rites to be much help. The vengeful Lyle (who was humiliated during the rescue) and his entourage eventually catch up with George and convince him to go to San Francisco where considerable hilarity ensues as he tries to adjust to life in the urban jungle.
News & Interviews for George of the Jungle
Critic Reviews for George of the Jungle
Audience Reviews for George of the Jungle
It may be a dumb concept, but as it pokes fu at itself, making reference to comedy cliches, "George of the Jungle" ends up a great film to watch. Brendan Fraser's wacky character is portrayed perfectly and the story is a very fun ride to take. Travelling through the world, acting like an ape how he grew up is a fun element to play with and when he makes it into the city is hysterical. The camerawork is simple, the characters are complex enough, and the villains are acceptable, but the gags are genius. I love watching this film for what it is, and in my opinion, there is really not much to complain about here! A great film for the entire family!
½
George of the Jungle is decent little live action comedy from Disney. The film is definitely silly, but it manages to bring on good laughs. Brendan Fraser gives a decent performance here, nothing that great. The film is perfect to watch as a family, and it's is a film that will appeal to all ages. George of the Jungle is simply put a fun comedy that though is uneven, manages to bring a few laughs. Unfortunately, the film too goofy at times, and that's why the film suffers a bit. The film is decent, but it never really that good to begin with. If you keep your expectation average, then you won't be disappointed. As far as a comedy is concerned, George of the Jungle does work, but at times it's clear that the film struggles to be something better, and doesn't quite get there. The cast do a decent job, and the film fun, but it's one of those films that aren't really memorable. Sure there are some good times to be watching this film, but it never does do anything interesting. The films biggest problem is that it lacks substance to the overall story. There's really nothing that good about the plot and it doesn't do anything really fun. The film is amusing, but you can see that the plot at times doesn't really work. But for what it is, George of the Jungle is a decent time waster; just don't expect anything truly great from this one.
½
Pure crap. Its not funny, interesting, or good, its just stupidity and them thinking its going to be a straight A comedy, and its one of the worst Disney films I have ever seen.
Jim Careter
Super Reviewer
George of the Jungle Quotes
| | |
| --- | --- |
| George: | Rubber tree! Always good for clotheslines |
| George: | Rubber tree! Always good for clotheslines. |
| | |
| --- | --- |
| Max: | Thor, didn't I tell ya not to wear 20 pounds of black leather in the jungle? Didn't I tell ya? Cotton, I said. Cotton breathes. |
| Max: | Thor, didn't I tell you not to wear 20 pounds of black leather in the jungle? Didn't I tell ya? |
| | |
| --- | --- |
| Ape: | Ladies and gentlemen I present you The King of the Jungle. |