Contact
(1997)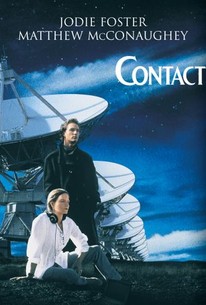 TOMATOMETER
AUDIENCE SCORE
Critic Consensus: Contact elucidates stirring scientific concepts and theological inquiry at the expense of satisfying storytelling, making for a brainy blockbuster that engages with its ideas, if not its characters.
Movie Info
She's known it since she was a young girl, when she would magically connect with distant voices on her father's shortwave radio. She's known it since college, when she chose the search for intelligent extraterrestrial messages as her discipline. She's known it since she bargained for just hours a week of satellite time to sweep the heavens for evidence. And she knows it every time she stares at the countless stars dappling the infinite night sky... Something is out there.
Critic Reviews for Contact
Audience Reviews for Contact
½
Robert Zemeckis crafts a very good science fiction drama, but in many ways it does lack a bit. The sheer scope of the film is grand, its ideas are very good, interesting and captivating, but there are times that the film feels a bit underdeveloped and it could have stood out more due to the fact that it has some very good ideas and acting on display on-screen. Watching the film, I felt that at times, it felt a bit too preachy, and it could have toned down a bit, but as a whole, Contact is an engaging picture, one that boasts impressive performances and a good story. However, I felt that the film considering what it deals with should have been much better as well. This isn't a bad film by any means, but it does leave a bit to be desired in terms of its story. The problem is that it tries to be far too ambitious, and it leaves a few things to dwindle and it never comes to fruition, which is a great shame because Contact really could have been a remarkable and highly memorable Science Fiction drama that could have stood out among other genre films. Contact is a good film, but it's not one Zemeckis' best efforts. For what it is, it's entertaining film, but at times we can see that the story strains a bit and it tries to overshadow the sometimes lacking plot with far too ambitious ideas, which like I said never really comes to light, and it's a shame because Contact had all the ingredients of a great Science Fiction picture, but it could have been so much better as well.
½
Fascinating story about first alien contact. Brilliant story telling in which complex ideas are communicated simply enough to be understood by a non-technogeek audience. (I could have done with a little less religious grandstanding though.)
Christian C
Super Reviewer
½
Robert Zemekis and Jodie Foster take on Carl (who died before the film was finished) Sagan's optimistic speculation on what the first alien (as in: from space not Uzbekistan) contact might be like. Interestingly the hypothesis goes (like in K-Pax) to thought being the fastest way to travel. Science geeks everywhere will sumptuously bathe in the obligatory sense of awe and wonder. Billions and billions of stars.
Kevin M. Williams
Super Reviewer
Contact Quotes
| | |
| --- | --- |
| S.R. Hadden: | I was one hell of an engineer. |
| | |
| --- | --- |
| S.R. Hadden: | [over video feed from Mir space station] I wanna show you something. [shows satellite feed to Ellie] Hokkaido Island. |
| Ellie Arroway: | The systems integration site. |
| S.R. Hadden: | Look closer. [zooms satellite feed to reveal second machine] First rule in government spending: why build one when you can have two at twice the price? Only, this one can be kept secret. Controlled by Americans, built by the Japanese subcontractors. Who, also, happen to be, recently acquired, wholly-owned subsidiaries... |
| Ellie Arroway: | [speaks with Hadden] ... of Hadden industries. |
| S.R. Hadden: | They still want an American to go, Doctor. Wanna take a ride? |
| | |
| --- | --- |
| S.R. Hadden: | [to Arroway in the tone of Hannibal Lecter] Clever girl. |
| | |
| --- | --- |
| Kent: | Dr. Arroway will be spending her precious telescope time listening for... uh... listening for... |
| Ellie Arroway: | Little green men. |