Hoodlum
(1997)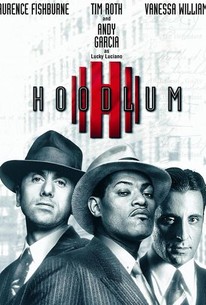 Movie Info
The numbers game was a major racket in 1930's Harlem, and African American crime boss Ellsworth "Bumpy" Johnson was its undisputed king until psychotic white mobster Dutch Schultz (Tim Roth) decided he wanted the lucrative district's gambling business for himself and was willing to get it by force. Schultz's nominal boss Lucky Luciano (Andy Garcia) also wants a piece of the action, but he would rather negotiate as would the soft-spoken Johnson who is as much a gentleman as he is a vicious gangster. Johnson (Laurence Fishburne) was at one time an idealist who, after his parole in 1934, returned to his native Harlem to work as a thug for Stephanie "Queen" St. Clair (Cicely Tyson). He is a hard case, and with ruthless efficiency he soon becomes her right-hand man. When she is eventually caught and sentenced to prison, she makes Bumpy promise to stay away from violence. He tries, but the sordid nature of his business makes it impossible. Though outwardly a cold-blooded sort, community social worker Francine Huges (Vanessa Williams) sees some good in him and so becomes emotionally involved in hopes of convincing him to leave criminal life. But despite her good intentions, the lure of power and easy money coupled with a bloody war with Schultz are too much for Bumpy and only serves to make him even worse. This crime drama features considerable violence.
Critic Reviews for Hoodlum
Audience Reviews for Hoodlum
Great cast and a film that should have been one of the better mob films. The biggest issue is with the filmmakers style and lack of for the period. He attempts to paint Harlem in a different light but few can argue he achieved this. Fishburne and Roth playing together are some of the highlights, they are two powerful character actors and this is where the film shines. I think they missed a grand opportunity to make a film that would shine alongside the Godfather, but sadly it's just a time killing film. 06/10/2018.
Brendan O'Connor
Super Reviewer
People who have seen American Gangster or are regular viewers of the TV show, Mobsters, will know who Bumpy Johnson was and know the story behind Hoodlum. For those of you who don't, Johnson was a member of an organized crime group, in Harlem, during the 1930's. He was also the man who mentored and inspired Denzel Washington's character of Frank Lucas in American Gangster. Long before that film, the story of Bumpy Johnson was told in Hoodlum. This was one of those little told stories about the mafia that started out very strong. Unfortunately, I felt that the writers went into far too much detail at certain points in the film and by the end it was definitely dragging on. Laurence Fishburne stars as Johnson and did an adequate job, my problem with his has always been he lacks emotion in his acting. In my humble opinion this should automatically disqualify him from certain things and this probably should have been one of those things. Tim Roth is Dutch Schultz and while Schultz had a reputation for being a character, Roth went a little over the top with it, but was still very entertaining. My favorite performance was of course the one by Andy Garcia as Lucky Luciano, but he really wasn't in the film much and that's a shame, because nobody plays a crime boss better than hen does. Hoodlum is a wild ride about an incredible true story, but as a film, it was a mix of terrific scenes and some slower unnecessary elements. As a film it's not the best, but it's worth watching just for the amazing story that is being told.
Todd Smith
Super Reviewer
A really good gangster flick with a top notch cast. Each and every one of them pulled it off. The flick came off a little predictable but entertaining none the less. I really enjoyed Tim Roth in this flick. Every time he plays the villain he manages to put forth that right amount of ooze that makes you hate him but makes you love to watch him work as well. Fishburne comes off cool and collected though all the movie even when pushed to the edge. The twist plan at the end wasn't much of a plan but it got the job done. I would have liked to see Fishburne take the matter into his own hands but this will do just fine. Recommended for any gangster flick fans.
Jason Spencer
Super Reviewer
Hoodlum Quotes
| | |
| --- | --- |
| Dutch Schultz: | Sometimes you win, sometimes you fuckin loose |
| Dutch Schultz: | Sometimes you win, sometimes you fuckin' loose. |