Bliss
(1997)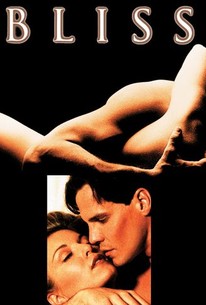 Movie Info
A provocative drama about sex, love, and trust, Bliss concerns Joseph (Craig Sheffer) and Maria (Sheryl Lee), a young married couple whose relationship is in serious trouble. While they love each other, Maria has difficulty opening up to Joseph, and, after six months of marriage, he makes the unhappy discovery that she's been unable to have an orgasm with him (though she's been willing to let him think otherwise). At work, Joseph and his co-workers notice a steady stream of beautiful women visiting an apartment across the street; the scuttlebutt around the office is that some sort of shady sex therapist works out of the building. One day, Joseph is shocked to see Maria visiting the apartment, and he bursts in and demands to know what's happening. The apartment does indeed house an unlicensed sex therapist, who goes by the name of Balthazar (Terence Stamp), and, before long, Joseph realizes that Balthazar's teaching are about the mind as much as the body, and that he's less concerned with orgasm than with "bliss," which he considers an emotional and spiritual as well as physical state. Before long, Joseph has convinced Balthazar to teach him what he knows about tantric healing and sex, in the hope that he can help heal Maria's emotional scars, as well as help himself become a better man. Bliss was the debut feature for writer/director Lance Young.
Audience Reviews for Bliss
I love Sheryl Lee, but I found this film to be dreadful. It's ridiculous, laughable and poorly executed. Everything about it is a joke.
Quinto Wallight
Super Reviewer
Bliss Quotes
There are no approved quotes yet for this movie.