Most Wanted
(1997)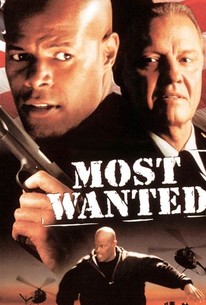 Movie Info
Actor, comedian, and talk show host Keenen Ivory Wayans stars in his own action thriller screenplay about a Gulf War hero who is the patsy in a frame-up. David Glenn Hogan directed this tale of a massive manhunt through the streets of Los Angeles. Sgt. James Dunn (Wayans) is framed for the assassination of the First Lady. Trapped in a conspiracy of revenge and deceit, he must clear his name before he is spotted by the viewers of America's Most Wanted (hence the movie title). Dunn relies on his own survival skills and expert military training to elude those in pursuit, including corrupt Army superiors plus members of virtually every police and government agency. To expose the real killers, Dunn must kidnap an eyewitness (Jill Hennessey) with a videotape of the assassination. But even with the evidience he needs and a hostage complicating matters, he still must deal with a key obstacle-a $10 million bounty on his head.
Critic Reviews for Most Wanted
Audience Reviews for Most Wanted
½
The professional reviewers don't like this movie as it is just another framed action film. That may be true, but at least it was interesting to watch.
This is a pretty decent action film. As an action movie it wasn't exciting enough. It also failed in an attempt to be a thriller. It really only succeeded in showing that dog food bags can be potential bombs.
Steven Vincent Gee
Super Reviewer
This is a pretty decent action film, not heard of it before but it's pretty good if it was a straight to DVD release. The first 10 minutes are almost identical to Shooter released this year and the story is very similar. If you enjoyed that you should like this......any film with Jon Voight as the bad guy is worth watching!!
Most Wanted Quotes
There are no approved quotes yet for this movie.