The Matchmaker
(1997)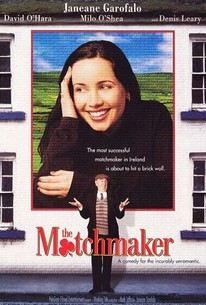 Movie Info
An American woman on a business trip in Ireland finds love knocking at her door, no matter how sternly she refuses to answer, in this romantic comedy. Marcy Tizard (Janeane Garofalo) is an assistant to Senator John McGlory (Jay O. Sanders), a congressman from Boston in the midst of a hard-fought reelection campaign. Nick (Denis Leary), one of McGlory's advisors, thinks that it might mean some extra votes in McGlory's heavily Irish-American district if he can arrange a photo opportunity with any relatives McGlory might have in the Olde Sod, so Marcy is sent to Ireland to find any surviving members of McGlory's family. Marcy is not especially enthusiastic about this assignment from the start, and her rancor grows when she arrives in the village of Ballinagra to discover that the annual matchmaking festival is in full swing -- and a number of single men immediately seize upon Marcy as a prize catch. One of them, Sean (David O'Hara), a former journalist who has come to Ballinagra to work on a book, takes an immediate fancy to Marcy, which she most certainly does not return. However, Dermot (Milo O'Shea), the town's leading matchmaker (when he's not busy running his tanning salon), is convinced that Sean and Marcy are perfect for each other, and he makes it his business to bring them together, whether Marcy likes the idea or not. The Matchmaker was filmed on location in Massachusetts and Galway, Ireland.
Critic Reviews for The Matchmaker
Audience Reviews for The Matchmaker
A very sweet comedy about an American who finds love in Ireland.
Sunil Jawahir
Super Reviewer
Leigh Ryan
Super Reviewer
The Matchmaker Quotes
There are no approved quotes yet for this movie.