Seven Years in Tibet
(1997)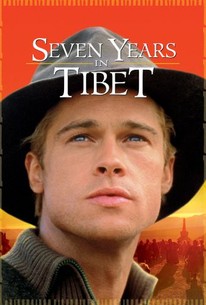 TOMATOMETER
AUDIENCE SCORE
Critic Consensus: Seven Years in Tibet tells its fascinating true-life story with a certain stolid grace, even if it never quite comes to life the way it could.
Seven Years in Tibet Photos
Movie Info
Jean-Jacques Annaud (The Name of the Rose, Quest for Fire) directed this Becky Johnston adaptation of Heinrich Harrer. In 1943, an Austrian mountain climber-skier (Brad Pitt) escapes from a British internment camp in India, travels over the Himalayas, arrives in Lhasato, and becomes friends with the Dalai Lama. Filmed in Argentina, Chile, and Canada.
Critic Reviews for Seven Years in Tibet
Audience Reviews for Seven Years in Tibet
½
At the end of the world his real journey began. Great Film! The film has a great amount of interesting facts, and takes place in the 1930's through '50's. There are times when it is; magical, spiritual, enlightening, sweet, sad and poignant.Overall, an unusual film, very involving and emotional without sentimentality, with wonderful music and outstanding cinematography. Highly recommended. After the death of 11 climbers, Austrian Heinrich Harrer (Brad Pitt) decides to add glory to his country and to the German pride by climbing Nanga Parbat in British India, and leaves his expectant wife behind. Egoist and a loner, he does not get along with others on his team - but must bend to their wishes after bad weather threatens them. Then WWII breaks out, they are arrested and lodged in Dehra Dun's P.O.W. Camp. He attempts to break out in vain several times, but finally does succeed along with Peter Aufschnaiter (David Thewlis), and end up in the holy city of Lhasa - a place banned to foreigners. They are provided food and shelter, and Peter ends up marrying a tailor, Pema Lhaki, while Heinrich befriends the Dalai Lama. He meets regularly to satiate the child's curiosity about the world, including Jack the Ripper and 'yellow hair'; in return he is exposed to teachings of Lord Buddha and even constructs a movie theater, while getting news of the end of the war; his divorce; and his son's refusal to communicate. But nothing will prepare him for the devastation about to descend when Communist China decides to attack, leading to the deaths of over 1 million Tibetans, destruction of over 6000 monasteries, and betrayal from their very own people.
½
Pitt's terrible Austrian accent and shallow pretty boy role play are hidden as its coincidentally perfect for the jerk he plays, but such happenstance doesn't extend to the film as a whole that tries to convey some spiritual change in the jerk yet fails to do so. Beautiful scenery, wasted.
Kevin M. Williams
Super Reviewer
½
Dazzling locations, swindling heights and breathtaking cinematography. A highly captivating film experience, even if the story lacks a clear and proper goal. We follow an Austrian mountain climber (Brad Pitt) as he embarks on a perilous journey into the isolated heart of Tibet. Pitt does an excellent job with his role, despite the fact that his "Austrian" accent sounds awfully contrived. As previously inclined, there's a lot of water-treading progress-wise, and it could easily have been shortended down by at least 30 min. One thing I really liked though was the music score by John Williams. Much of the time, it stays quite anonymous in the background, but there are parts where it's reminiscent of the work he did for the Indiana Jones movies - which is a big plus point in my book. Had the story only possessed more drive and focus, this could have been a truly great motion picture. But due to mentioned drawbacks, it comes to a stop at the "good, but not amazing"-line on my enjoyment scale. In terms of beauty, however, it's close to being a full-pointer. A scenic pleasure that makes it more than worthwhile.
Seven Years in Tibet Quotes
There are no approved quotes yet for this movie.