One Night Stand
(1997)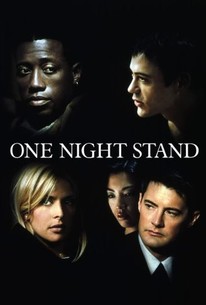 Movie Info
A man's brief fling threatens to ruin what he values most in life in this drama. Max Carlyle (Wesley Snipes) lives in California, where he has a successful career directing television commercials and is happily married to Mimi (Ming-Na Wen), with whom he has two children. While visiting New York City, Max meets Karen (Nastassja Kinski) by chance after missing a flight; circumstances keep bringing them together over the course of the evening, and they end up spending the night making love. When he returns home, Max seems distant and unhappy, though Mimi can't tell why and Max won't say. A year later, Max and Mimi fly to New York to visit his close friend Charlie (Robert Downey, Jr.), who is in the last stages of an AIDS-related illness. Max meets Charlie's brother Vernon (Kyle MacLachlan) and is introduced to his new wife -- Karen. Facing Karen sends Max into an emotional tailspin, and he realizes that he must tell Mimi the truth about his indiscretion. Writer/director Mike Figgis adapted One Night Stand from a screenplay by Joe Eszterhas, though Figgis' changes were so extensive that Eszterhas chose to remove his name from the project.
Critic Reviews for One Night Stand
Audience Reviews for One Night Stand
Without Wesley Snipes this movie would have failed. Interesting turn of events bring two married cheaters together in a complete twist of events throughout the movie. A Chick flick but still worth 3 stars
Bruce Bruce
Super Reviewer
This Wesley Snipes' drama movie is good, but rather bogus reationalization of the main characters' actions takes the bite out of a seductively photographed story aobut infidelity, friendship, and terminal illness.
Dean McKenna
Super Reviewer
One Night Stand Quotes
There are no approved quotes yet for this movie.