Black Angel
(1946)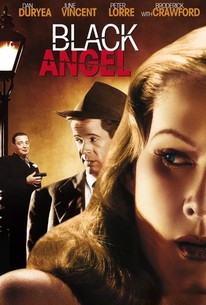 AUDIENCE SCORE
Critic Consensus: No consensus yet.
Movie Info
In this imaginative film noir, alcoholic musician Martin Blair becomes the prime suspect when his cheating wife is murdered. However, when his alibi is established, another man is sent to prison for the crime. The condemned man's wife then sets about to prove her husband's innocence.
Critic Reviews for Black Angel
Audience Reviews for Black Angel
½
fun film noir that gives dan duryea a chance to prove he's more than just a stock villain. coulda used a stronger female lead perhaps but includes, as someone wrote on imdb: 'every noir cliche from nightclubs to death row!'
Stella Dallas
Super Reviewer
½
"black angel" has all the quinteseential elements of classic noir epitomized concisedly in 80 mins: the sap, the femme fatale, the good girl who fails to redeem the sap, of course, the magnitude of darkness within the grain of human psyche. it's one of those apolitical noir works, which shuns from social issues and concentrates upon individual developments instead. (in other words, whatever evil out there is your doing, nothing to do with society or the government). as a matter of fact, the term film noir was invented by french critic nino frank, but people who made noir then wasn't even aware there's a term called noir. people in that time used the other word instead: CRIME-THRILLER. yes, "black angel" is a crime-thriller, which involves some process of detective work: seeking the real killer. as i mentioned in my review on "element of crime", what distinguishes american hard-boiled detective novels (inspiration for film noir) from any continental european detective fictions is the fact the detective is not anyhow excellent by intelligence but his unflinching immersion into the crime...here's another point, what makes noir transcend any of those dry "whodunit" games of logics is its analytical but stylish exposure of the dark grains within human psyche. basically, there're three basic attributes of noir: "institutional corruption," "sexual or criminal transgression" and "inescapable fatalism".."black angel" surely includes the last two. a lovelorn songwriter gets smitten because his singer-wife ruthless deserts him, and she even rejects to grant him a chance for the sight of her. thus this masochistic man who lives another day simply for the sake of love, who dedicates his art to his feebly perishable romanticism. but strangely, the wife suddenly dieof strangulation. so who's done it? the wife's cuckold? or her employer, the nightclub owner? exactly who killed her? now the fishy spot is on the wife's lover. but the suspect's wife simply won't give up hope, and she teems up with the songwriter in search of the real murderer. oddly, the lovelorn songwriter, again, falls in love with the wife of the suspect, who was cheating with his late wife. the term to describe this noir sympton is ROMANCE WITHOUT LOVE. the man just incessantly falls head over heels over the wrong woman, woman who doesn't put his interests into the priority of her concerns, woman who is slavish prey of another man but dominatrix queen who holds the power to his well-beings, woman who seems just pre-programed to hurt him, devastate him and tear his sense of sanity apart, woman who just wants to use him: his late wife uses him to promote her singing career and have him write songs for her; the wife of the suspect just wants his help to rescue her husband (she's also using him, but in a comparatively kinder, and more gracious manner)...is he just doomed by love? is this the mischief of fate? or he just sastisfies his appetite for self-ruin by the choices of his love interests? perhaps all, i guess. SPOILER: the truth is the real killer is himself. hearbroken as him, he overtly indulges himself in binge drinkings, just day after day, he carries his life in booze, rottten within the mournings of an unrequited love. but this time, the alcohol emancipates the demon within him, and he comes to the wife's chamber and strangles her in a blind rage once again she mercilessly humuliates his self-esteem. in the end, the sap is a helpless romantic hero, who volunteers to turn himself in to the policeman just to save another woman's husband, his rival of love, as if he's announcing that "if i cannot quit this painful thing called love, let me fucking die on the electric chair"!!! it's petinent, a terse archetype which appropriately exemplifies the morbid aspects of human unconscious. that's the reason i adore classic movies, old film noir. it has great effective narrative style without overtly intellectualized complication like any of european artsy movies which sometimes disguise pointless non-sense as profound art. but on the other hand, noir isn't in lack of depth as well, yes, it was made in hollywood, so what? it ain't shallow, and it just favors to tell a philosphical story in a more democratic, tangible way, available for everyone! (ps) it may sound grim, but what makes me understand it so well is because i actually identity with the protagonist. i don't write or analyze things i don't feel personally related. i guess that makes me seem kind of morbid as well.
Veronique Kwak
Super Reviewer
A strange, yet intriguing story of two people trying to prove someone's innocence. I liked it.
Black Angel Quotes
There are no approved quotes yet for this movie.