The Killers
(1946)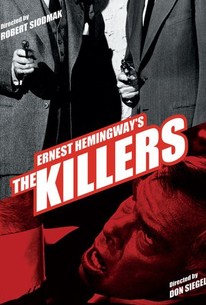 Movie Info
The Killers, directed by Robert Siodmak, who received an Academy Award nomination, has long been considered the quintessential noir film: a character study of one man, Swede (Burt Lancaster), who because of betrayal and the love for a woman, Kitty Collins (Ava Gardner) has lost the will to live and waits, alone in one room as his fate unfolds. The entire film, a masterfully edited and photographed series of flashbacks, is Swede's story, told from the perspective of Riordan (Edmond O'Brien) as he tries to find out the truth. This film established Ava Gardner as a major film presence. Siodmak uses shadows to mask her eyes, giving Kitty an evasive, mysterious quality and effectively keeping her true motivations in question. Burt Lancaster, in his film debut, gives one of his best performances, portraying the tough ex-boxer with simplicity and a stoic acceptance of fate that is unforgettable. Siodmark's hard, edged, moody direction of the excellent Oscar nominated screenplay by Anthony Veiller, makes The Killers one of the definitive film noir, and an involving, poignant, pipeful film.
Critic Reviews for The Killers
Audience Reviews for The Killers
We follow an insurance claims investigator who stumbles onto clues that lead the perpetrators of a high profile armed robbery. Only there's a sad tale of desire and lust thrown into the mix, deception and deceit with a kiss, and that's the gasoline that drives this dragster to it's finish line, a view of the world that's ultimately black and white and icy cold.
Kevin M. Williams
Super Reviewer
½
When a gas pump attendant is executed by a pair of professional killers an insurance investigator starts digging to find out why. One of the quintessential benchmarks of Film Noir, The Killers is based on a short story by Ernest Hemingway and was the launch platform for the careers of both Burt Lancaster and Ava Gardner. It's not often you'll see a film that kills off its hero in the first 10 minutes, but the brilliant opening scenes make sure you're hooked through til the bitter end as Noir stalwart Edmond O'Brien unravels the events leading up to the cold blooded assassination that is curiously almost welcomed by Lancaster. As the story is told in flashback, the brisk pace means that perhaps depth of character is sacrificed for economy but the heist, double crosses and allure of the stunning Gardner make sure your interest never wanes. Perhaps lacking the crackling chemistry of Bogart and Bacall or the razor blade dialogue of Chandler, it's still a gripping story involving a Femme that's not as quite as Fatale as you'd expect from Hemingway. Or maybe that's just my inner chump rationalizing for the sake of Ava's considerable charms...A classic detective story and must for Noir aficionados.
From the opening scene, Siodmak introduces the audience to two of the best hitmen that the silver screen has to offer.. This breathtaking opening sure sets the tone for this fantastic 1946 film noir. While not as stylish and captivating as other famous Noirs such as Laura, this film still a classic. Told mostly through flashbacks, this Hemingway story translates incredibly well to celluloid. Soidmak creates an intriguing & mysterious tale of crime with a great cast of no good double crossin' back-stabbers. Gardener is great as the deceptive beauty Kitty Collins. (Is there a better name for a femme fatale?) This film is a great entry into the canon of great film Noirs and is worth a watch just to see Lancaster's on screen debut.
The Killers Quotes
There are no approved quotes yet for this movie.