The Great Gatsby
(1949)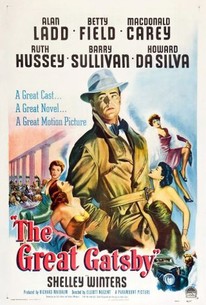 Movie Info
This second film version of F. Scott Fitzgerald's definitive jazz-age novel The Great Gatsby stars Alan Ladd in the title role. Jay Gatsby, formerly Jake Gatz, is a successful bootlegger with aspirations of being accepted in the highest social circles of Long Island. Once he's done this, Gatsby devotes his time to winning back the love of his former lady friend Daisy (Betty Field), now married to boorish "old-money" millionaire Tom Buchanan (Barry Sullivan). Gatsby's obsession with rekindling old flames results in disillusionment and, ultimately, tragedy. Sidelines observer Nick Carraway, the narrator of the original Fitzgerald novel, is expertly played by MacDonald Carey, while Shelley Winters makes an excellent impression as Buchanan's slatternly mistress Myrtle Wilson. Cast as Myrtle's dour optometrist husband is Howard Da Silva, who essayed a minor role in the 1974 remake of Great Gatsby. That 1974 version has unfortunately kept the 1949 Gatsby from being released to television.
Critic Reviews for The Great Gatsby
Audience Reviews for The Great Gatsby
Ladd is a excellent choice for Gatsby and Shelley Winters perfect for Myrtle but the film is hampered by miscasting in most every other role. The flat look of the film betrays the luxury settings inherent in the book. Not bad but surely not a definitive version.
½
Not as bad as the 2001 addaption, but not much better.
Joseph Eastmond
Super Reviewer
The Great Gatsby Quotes
There are no approved quotes yet for this movie.