Fallen
(1997)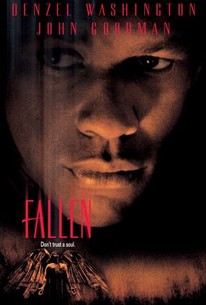 Movie Info
Directed by Gregory Hoblit (Primal Fear), Fallen is a blend of the police drama and supernatural thriller genres. Homicide detective John Hobbes (Denzel Washington) narrates, taking the audience back to "the time I almost died." This sets a flashback in motion, beginning at the prison cell of serial killer Edgar Reese (Elias Koteas), who grabs Hobbes' hand and sings the Rolling Stones' "Time Is on My Side." After Reese is executed, Hobbes and his partner, Jonesy (John Goodman), find a seeming copycat killer, committing murders in a manner not unlike Reese. Hobbes is drawn into the occult after he meets theology professor Gretta Milano (Embeth Davidtz), the daughter of a dead police officer. Hobbes becomes a suspect himself, but he continues his search for the truth. Co-producer Dawn Steel died just as this film was due for release. ~ Bhob Stewart, Rovi
Critic Reviews for Fallen
Audience Reviews for Fallen
½
A pulse-less, predictable thriller which seats Denzel Washington in a thankless role as a decorated Philadelphia cop who is tormented by a demon who once possessed a serial killer (Elias Koteas) that the detective helped put to death. While the story has an interesting aspect to it (the demon bounces around from person to person through a simple "touch"), you still get this feeling that you have all seen this before. Washington does what he can with his character, which is given slightly more information than the other few main characters, but the lack of color overall to the characters as well as a lack of a chilling atmosphere helps lull one to sleep pretty quickly. Of course, with cut and paste thrillers like this, there is a "twist" ending or two, and this one has a pretty clever one to it. However, the film is very, very forgettable just because it becomes tedious after awhile, despite Washington's earnest effort to make it somewhat respectable - it is just a downright bore.
Dan Schultz
Super Reviewer
½
I find Gregory Hoblit to be a much underrated director. This impressive horror/thriller is very good. The film is definitely creepy and thrilling and Gregory Hoblit crafts a fine psychological horror film. Denzel Washington delivers a fine performance alongside John Goodman. The Fallen is a great mix of crime film, and supernatural horror with a psychological twist. I won't go into detail of the plot. Hoblit, I find is a fine director who knows how to craft an intricate story that is very engaging, and original. This is true speaking of Fallen. This is an interesting, very well executed film. The concept of the film, like most of Hoblit's films is very engaging film. Fallen is a remarkable psychological horror film that definitely is a must see. Fallen is a terrific film with plenty of twists. The performances of the cast make this film something truly special, and though it's not a perfect film, Fallen is still a top-notch psychological horror film with plenty to offer. The story is elaborate, and will keep you guessing till the very end. I enjoyed the concept of the film, and it made this film quite entertaining. Gregory Hoblit is an underrated talent, and with this film he shows that he can craft a terrific film. As far as psychological horror is concerned, Fallen sets out to achieve what it tries to do. A well acted, and executed film with an interesting concept, Fallen delivers, and with a cast like this, it's also a must see. The film is creepy, mysterious and above all very good. Yet another underrated film by an underrated director.
It was pretty good. The cast seemed a little random...But Denzel Washington was good.
Martin Sahlin
Super Reviewer
Fallen Quotes
There are no approved quotes yet for this movie.