The Borrowers
(1998)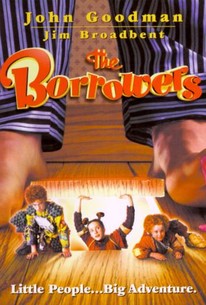 Movie Info
Mary Norton's children's books about a family of four-inch-tall people who share accommodations with giant "beans" (as in "human bein's") are brought to the screen in beautifully scaled detail, but neither the story nor the characters come alive.
Critic Reviews for The Borrowers
Audience Reviews for The Borrowers
Little People. Big Trouble. Lots of fun. Good movie! It was fun to view how these "borrowers" moved about, using ordinary household items to propel themselves around a normal-sized house. It's all pretty ingenious. I find this movie charming in it's escapism. Sure, it mixes times and cities, making it impossible to identify where and when it takes place, but does it even have to be anywhere on Earth? It's fantasy, and I found it entertaining. The four-inch-tall Clock family secretly share a house with the normal-sized Lender family, "borrowing" such items as thread, safety pins, batteries and scraps of food. However, their peaceful co-existence is disturbed when evil lawyer Ocious P. Potter steals the will granting title to the house, which he plans to demolish in order to build apartments. The Lenders are forced to move, and the Clocks face the risk of being exposed to the normal-sized world.
½
Pod Clock: We're not vermin. We're not creeps. And we're not pests. We're Borrowers.  "Little People... Big Adventure" The Borrowers is a terrific and fun family adventure movie. It's a movie I wish I had seen when I was a child. Watching now, it still was a fun and highly entertaining film. I can't even imagine how much I would have loved it when I was a kid, especially with the amount of enjoyment I got out of it now as an adult. The film does have a certain charm about it. It's a feel good story with a big message for children attached. No matter how small you may seem in the grand scheme of things; you can always make a difference and have your voice heard. The Clock family is the perfect example of that. They are a miniature family that dwell beneath the floorboards of the Lenders. The Clock's are known as Borrowers. They live off of things they find around the house; making use of things like batteries, cards, and hooks.  The story revolves around the Clock's and the Lender's both losing their home. A corrupt lawyer named Potter has plans of tearing down their house. When a human child finds a Borrower in his room, he befriends it, and soon tries to help the family move along with them. Things go wrong during the move, and the Borrower children are left alone in the world. From there the adventure really takes off and becomes a story of will power on behalf of the human child and all the Clock's. The movie has a lot of slap stick comedy that will keep the kids entertained, much in the vein of movies like Home Alone. Kids should be glued to the screen for nearly an hour and a half. There's just a lot to like here. There's a great cast, including John Goodman, Jim Broadbent, and Hugh Laurie. Harry Potter casters must have loved what they saw from this movie because three of the actors in this film went on to star in the Harry Potter series. A young Malfoy is on display here as well. Plus there is a terrific Hans Zimmer score to bring everything together nicely. The movie looks pretty good as well. It takes advantage of the little people well and puts them in great settings and manages to not make them seem too out of place.  There's really nothing to complain about here. It's solid family entertainment. I watched this without children present and loved it. So that shows that it's either just a well made movie period, or that I have a lot of growing up to do still. Probably both now that I look at it. 
Melvin White
Super Reviewer
½
The whole story about these tiny people may appeal to kids for a second or two, but overall it's not that interesting.
The Borrowers Quotes
There are no approved quotes yet for this movie.