Nightwatch
(1998)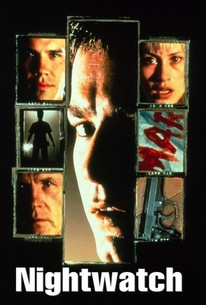 TOMATOMETER
AUDIENCE SCORE
Critic Consensus: Nightwatch loses much of what made its inspiration entertaining - and proves that when remaking a foreign film, hiring the original director is no guarantee of success.
Movie Info
Like The Vanishing (1988 and 1993), Nightwatch is an English-language version of a foreign-made film with the original director hired to remake his own movie. Ole Bornedal was the writer-director of the suspenseful 1994 thriller, Nattevagten, which had no U.S. release immediately on the heels of its success in Denmark. For the second time around, Bornedal directed, but Steven Soderbergh wrote a new script based on Bornedal's original film. Both were produced by Michael Obel. Nattevagten was Bornedal's directorial debut, and reviews praised the film for the claustrophobic atmospherics and suspense generated from the very first establishing scene. For the 1998 English-language remake, the artistic elements of the original gave way to name actors, slicker production values, and the more conventional grindhouse genre approach, opening with a brutal prostitute murder in a pre-credit sequence. University student Martin (Ewan McGregor) ignores warnings to take a city-morgue night watchman job for extra cash. Odd happenings at the morgue are linked to a serial killer, and Inspector Thomas Cray (Nick Nolte) investigates. Soon Martin's girlfriend Katherine (Patricia Arquette) learns that Martin has become a key suspect. However, some might suspect Martin's edgy friend James (Josh Brolin). Brad Dourif fills the role of a doctor, and young Alix Koromzay portrays vulnerable teen hooker Joyce.
Critic Reviews for Nightwatch
Audience Reviews for Nightwatch
If they would have just stuck to the Ewan McGregor being scared at work premise, this movie would have been so much better...cuz that was fantastic, scary, and funny! Unfortunately, they decided to try to add a strange storyline with Nick Nolte. Not a good decision...
Cynthia S.
Super Reviewer
There are some truly creepy moments in Nightwatch. This was a well made, nail biting thriller. Plot - "Martin Bells is a last year law student who takes a job as the night watchman in a medical examiner's building. Although most of the time he can catch up with his studying, every hour he has to make the rounds through the complex, including entering the morgue. There, recent murder victims are occasionally brought in by Inspector Cray, a gruff detective who's investigating a serial murder spree along with his partner, Bill Davis. Martin's girlfriend, Katherine, isn't crazy about his new job, while his pal and fellow law student, James Coleman, doesn't think that the job or either of their lives is that exciting anymore. Believing that they should live life on the edge, James gets Martin to agree to a "game" of challenges where either of the two will test the other's nerves and bravado. One of them involves soliciting a prostitute, Joyce, for various sexual and nonsexual activities. Soon, however, some strange events begin occurring in the morgue and Martin wonders if his friend is behind them, especially when the events make Martin look like the prime suspect for the serial murder spree. As things get progressively worse, Martin doesn't know whom to trust or whether the recent occurrences are just part of a game or are indeed real and potentially quite dangerous." The acting in this is good, but it's quite awkward. The dialogue is also a little strange, but all of this does not point to a bad movie. As a matter of fact it's what makes the movie so unique and stand out in a very good way. The scenes in the beginning when Martin is working at the medical building alone at night are extremely chilling and very eerie. This is the kind of "guess who done it" thriller that will have you guessing till the very end. Some bloody moments as well, and the killer plays a good ass psychopath. Great movie, I highly recommend it!
jd cryptic
Super Reviewer
½
this movie wasnt memorable but it was interesting and had a strong cast.
Nightwatch Quotes
| | |
| --- | --- |
| Martin Bells: | Wise men sy he will choose darkness, for it is easier to destroy the light within himself than to fight the darkness without. |
| | |
| --- | --- |
| Martin Bells: | All I have to do is sit on my ass and read a book! |