Easy Living
(1937)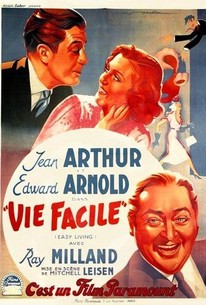 Movie Info
Preston Sturges wrote the screenplay for this engaging screwball comedy, adapted from a play by Vera Caspary. J.B. Ball (Edward Arnold), a millionaire Wall Street tycoon, is having an argument with his free-spending wife (Mary Nash) one morning in their penthouse apartment, and in a fit of pique he throws her mink coat out the window. The mink lands on Mary Smith (Jean Arthur), a lowly office worker who is riding to work on the upper half of a double-decker bus. Ball tracks down Mary, and to further aggravate his wife, he not only insists that Mary keep the coat, but he buys her a fur hat to match. When Mary finally arrives at work, she's fired on the spot, with many suspicious comments about both her tardiness and her expensive new outerwear. To make matters worse, a reporter who spied Ball buying Mary the hat has spread the story that she's his new mistress. Just wanting a cup of coffee and a few moments peace, Mary meets John (Ray Milland), a waiter at a coffee shop; the two hit it off and agree to a date. Unknown to Mary, John is actually Ball's son, determined to make his own fortune without Dad's help. The supporting cast includes the always-reliable Frankin Pangborn and William Demarest.
Critic Reviews for Easy Living
Audience Reviews for Easy Living
an absolute delight. sturges' wonderful script, leisen's light touch, and adorable jean arthur. what else could u ask for!
Stella Dallas
Super Reviewer
½
I liked this movie it has one of those stories that are driven along by coincidences, and it all gets very silly by the end.
Easy Living Quotes
There are no approved quotes yet for this movie.