Men With Guns
(1997)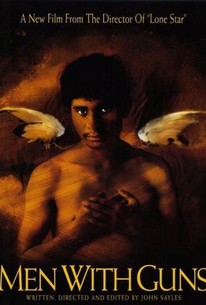 Movie Info
Humberto Fuentes is a wealthy doctor whose wife has recently died. In spite of the advice of his children, he takes a trip to visit his former students who now work in impoverished villages. His trip soon becomes a quest, politically awakening him when he finds out that one of his students was killed by the army.
Critic Reviews for Men With Guns
Audience Reviews for Men With Guns
Another Sayles masterpiece. Where did that guy go anyways? I realize that the quality of his films has deteriorated but surely he has more stories to tell us?
John Ballantine
Super Reviewer
½
This was my first John Sayles film that I am aware of. It came from my list of Films from the 1997 Toronto International Film Festival and as I have said in each review of a film from that list, they have yet to show a bad film. I am told that Sayles is a Independent American Filmmaker and he proves it in this film. A film in Spanish language with English Subtitles. A story of a Doctor in a Latin American Country who goes on a search for his students that he trained years before, they are spread out in the rain forest. The students he finds out have been killed over the years by soldiers or guerrillas, bandits or thieves, all of who are Men With Guns. The cast is unheard of by most Americans, but neither the subtitles nor the cast take away from the movie. 4 1/2 stars I have to give this one.
Bruce Bruce
Super Reviewer
To the innocent bystander, the poverty stricken populance caught in the middle of a revolution/civil war/coup d'etat, there is no difference between the dictators and the democrats, the fascists and the socialists, the military and the paramilitary, no heroes and no villains. There are only the men with guns and themselves, and the men with guns always get what they want. This rarely shown side of armed conflict is at the heart of this brave film, which dares to empathize without preaching. The film is as simple as its title, and no less profound for it. Shot entirely in spanish (as opposed to entirely in english with the cast donning 'spanglish' accents, thank you) and taking place in a purposefully unnamed country, it is structured like a road movie whose ultimate destination is a mythical utopic town in the jungle. So rarely has a film captured the spirit or the reality of Latin America, and the fact that this one, directed by a man from Boston, managed to do both, brings hope.
Men With Guns Quotes
| | |
| --- | --- |
| Domingo the soldier: | Could you hear my confession? |
| Padre Portillo the priest: | i'm not a priest anymore. I don't wear a cassock see? |
| Domingo the soldier: | I was a soldier but now i don't wear the uniform. Does that mean i haven't killed anyone? |
| Padre Portillo the priest: | Killing the enemy in battle isn't the same as murder... |