The Mark of Zorro
(1940)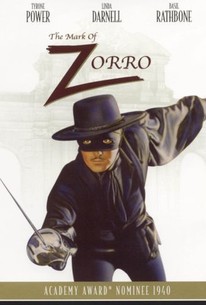 Movie Info
This is perhaps the best of the many Zorro films as Tyrone Power gives an outstanding performance as the alternately swishing and swashbuckling son of a 19th century California aristocrat. As a champion of the oppressed, Zorro must face a wicked governor portrayed by J. Edward Bromberg, who, of course, has a beautiful niece whom our hero loves. Basil Rathbone is a delightfully evil assistant to the governor. Based on Johnston McCulley's novel The Curse of Capistrano, The Mark of Zorro was a remake of the 1920 silent film and by far superior to all the Zorro incarnations. Interspersed with humor and one-liners but still keeping up with the highest of swashbuckling traditions, it is an action-packed story of one man standing against a corrupt, oppressive government on behalf of those less able to bear their burdens.
Critic Reviews for The Mark of Zorro
Audience Reviews for The Mark of Zorro
The Adventures of Robin Hood was only two years previous to this and so Hollywood was essentially riding the trend with this one, very nearly a remake (albeit cheaper, quelle surprise) of the other. Stolen from The Scarlett Pimpernel is the hero-pretending-to-be-gay bit (until he dresses up all in black, and THEN he's a MAN). Okay, now the particulars. Powers is serviceable as the lead and no one except Basil Rathbone challenges this watermark throughout the production. Sondergaard gets to chew a little scenery but the highlight of the film, of course, is the swordfight between Powers and Rathbone.
Kevin M. Williams
Super Reviewer
½
A young caballero returns from military service in Spain to find his father deposed from office by a corrupt tyrant and so dons a mask to fight on the side of the people. The original template used in the Antonio Banderas remake, The Mark Of Zorro was made 2 years after the classic The Adventures Of Robin Hood and features many of the same ingredients, including impressive swordplay, charming old school romanticism, a supremely hissable villain in the form of Basil Rathbone and Eugene Pallette who is pretty much playing the same part as a good hearted but belligerent old friar. But the star of the show is most definitely Tyrone Power who proves he can swashbuckle with the best of them, not only in his skillful use of the sword but also with his fine display of comic timing in the genuinely amusing scenes as his foppish alter ego. He and Linda Darnell make an extremely attractive couple, the action sequences are some of the finest from the golden age and it has a refreshingly old school lack of cynicism, making for a rousing boy's own adventure that rates as one of the best of the era.
the best zorro hands down. tyrone power, i'm sorry i doubted you!
Stella Dallas
Super Reviewer
The Mark of Zorro Quotes
There are no approved quotes yet for this movie.