Happy Together (Chun gwong cha sit)
(1997)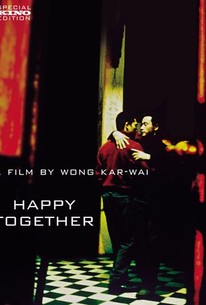 Happy Together (Chun gwong cha sit) Photos
Movie Info
Yiu-Fai and Po-Wing arrive in Argentina from Hong Kong and take to the road for a holiday. Something is wrong and their relationship goes adrift. A disillusioned Yiu-Fai starts working at a tango bar to save up for his trip home. When a beaten and bruised Po-Wing reappears, Yiu-Fai is empathetic but is unable to enter a more intimate relationship. After all, Po-Wing is not ready to settle down. Yiu-Fai now works in a Chinese restaurant and meets the youthful Chang from Taiwan. Yiu-Fai's life takes on a new spin, while Po-Wing's life shatters continually in contrast.
Critic Reviews for Happy Together (Chun gwong cha sit)
Audience Reviews for Happy Together (Chun gwong cha sit)
½
Beautifully filmed, cast are great, but painfully, painfully slow. Also NOT a romantic film, as the title would have you believe!
Nicki Marie
Super Reviewer
After have watched "Chungking Express" and "2046", I could understand the disappointment of Kar Wai Wong´s fans with "My Blueberry Nights". It´s nice and I enjoyed it myself, but now, having watched "Hapy Together", I can ask it too: what happened? Maybe it was the west wind, who knows? or the too-famous-actors, but it just doesn´t have the depth, tragedy and beauty of these other movies. "Happy Together" (don´t get tricked by the title) is an authentic Wai Wong love story with its ups and downs. Buenos Aires was the perfect choice to place the relationship of the two chinese men lovers as desperate and sensual as el tango Argentino. Homosexuality is not the main point and it is, actually, never judged. Everything is very natural and beautiful, quite different from Brokeback Mountain, for example. The characters are real, interesting, and the movie has that known Wai Wong stunned "atmosphere" with hot colours and decadent places.


Rubia Carolina
Super Reviewer
½
No matter how terribly grounded you are, there is always Wong Kar Wai to take you flying away. He always succeeds at marrying realistic human drama with otherworldly beauty and atmosphere. The content is often raw, whereas the form is always stunningly beautiful. He is also a fantastic maker of love stories, usually stories of unfulfilled expectations. He never gives his characters happy endings, he's more interested in unfolding the ups and downs of relationships enveloped in ethereal settings. Happy Together is no exception to the rule; once more, and to my absolute joy, Kar Wai works his magic and makes me glad that he ever made this film. Leslie Cheung and Tony Leung play two lovers from Hong Kong who travel to Argentina to begin a new life. However, theirs is a very odd and unhealthy relationship, equal parts obessessive and indifferent according to their moods. Being in Buenos Aires, where they know only each other, makes them both strive to become independent, in an effort to free from theie mutual obssession, but also draws them nearer to each other, since they are, at the end of the day, all they have. The result is a painful dance of violence and tenderness. Theirs is the epithome of a love/hate relationship; Jealousy, rage, lust, sweetness, coming and going with equal intensity. All while they are in a foreign country and they represent everything "familiar" to each other. Even in this adverse environment, both characters have to let go. Their moments together become devastating more often than they are pleasant, to the point of leading them both to misery. All this happens in a very Wong Kar Wai fashion, in a Universe in which time and even space are uncertain and even the grittiest alleys, dirtiest and flea-infested apartments have an innate beauty that jumps to the eye. The director and Christopher Doyle create some of the most inspiring images I've ever seen. Their eyes just seem to elevate the story, as in all of their collaborations. I also loved how Kar Wai seemed to understand and profit from the spirit of Buenos Aires; the melancholic demeanor of the background characters, the buildings, the color, the light and the water. And, above all, the music. Leslie Cheung and Tony Leung are amazing! Every time I see him perform I become more convinced of Leung's versatility. He becomes Fai, making him sympathetic enough but still careless, unbalanced and aggressive. By himself he is not very appealing at all, but his circumstances, and how Kar Wai chooses to approach him ,bring out his substance. Leslie Cheung is also very good as Fai's reckless lover. I wouldn't say this is my favorite Wong Kar Wai film, but it's definitely a wonderful film and probably one of the director's most accessible works (only 97 minutes long). I barely noticed the passing of time, anyways, because the images and the performances are so absorbing. The scenes at the tango bar... I just wished they would last much longer! And, of course, I suppose that, as with any film, Happy Together can mean many things to many different people. To me, it was immediately about accepting the end of any relationship and walking away from what is bad for you, even if you don't want to. But there is probably much more to it. Or you can just stare at the wonderful colors and listen to the tangos.
Happy Together (Chun gwong cha sit) Quotes
There are no approved quotes yet for this movie.