A Perfect Murder
(1998)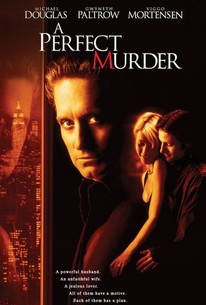 Movie Info
A Perfect Murder is based on Frederick Knott's play Dial M for Murder, filmed by Alfred Hitchcock in 1954. Married to commodities trader Stephen Taylor (Michael Douglas), Emily Bradford (Gwyneth Paltrow) is romantically involved with artist David Shaw (Viggo Mortensen). Aware of this affair, Stephen researches David's past, visits his loft studio, and informs David that he knows about his aliases, jail sentences, and various cons and scams directed at rich women. Then Stephen offers David $500,000 to murder Emily, and David agrees. The plan is calculated to make the murder look like an accident, but events soon go on an unscheduled course. Enter Detective Mohamed Karaman (David Suchet). Knott's original play opened June 1952 in London, followed by a New York run that began October 1952. Several books and sources describe how Hitchcock's film was made in 3-D but neglect to mention that, despite trade screenings in 3-D, Dial M for Murder was originally released in 1954 with ordinary, flat 2-D prints. It was finally shown to audiences in 3-D during the mid-'80s. ~ Bhob Stewart, Rovi
Critic Reviews for A Perfect Murder
Audience Reviews for A Perfect Murder
½
Modern version of Hitchcock movie 'Dial M for Murder'. A rich wife Emily (Gwyneth) has an affair with a shady artist (Viggo). Her husband Steven (Michael) finds out and blackmails his wife's lover into killing her. It would have been the perfect murder but it does not all go to plan. Great cast. Great plot. Viggo actually painted the paintings in the loft.
Candy Rose
Super Reviewer
A typical mid-90's thriller with the murders and the twists and the mystique and the sexual tension. But hey....I like the mid-90's thrillers...they get the money rolling. Pretty okay movie.
Martin Sahlin
Super Reviewer
½
I really wanted to enjoy this movie. It looks amazing on paper, but it just wasn't anything special. The plot started off quite nice, but became an incredibly cheesy and typical ending. I am extremely sick of movies that have to end with the good guy/girl winning. I think the idea that you can remake Dial M for Murder and make it better or even on par is an utter joke. Even with actors like Michael Douglas and Viggo Mortensen, you can't top Hitchcock.
Conner Rainwater
Super Reviewer
A Perfect Murder Quotes
| | |
| --- | --- |
| Steven Taylor: | It should appear to be spur of the moment, stupid. I always thought bludgeon has a nice "spur of the moment" sound. |
| Steven Taylor: | It should appear to be spur of the moment, stupid. I always thought bludgeon has a nice 'spur of the moment' sound. |