Les Miserables
(1998)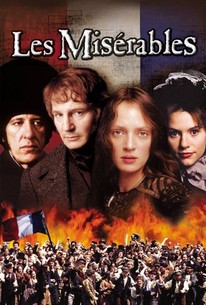 TOMATOMETER
AUDIENCE SCORE
Critic Consensus: This intelligent, handsomely crafted adaptation of Victor Hugo's classic novel condenses the story's developments without blunting its emotional impact.
Movie Info
Bille August directed this Rafael Yglesias adaptation of the 1862 classic by Victor Hugo (1802-1885) about the quest of Inspector Javert to capture escaped convict Jean Valjean, originally an honest man who was jailed for stealing a single loaf of bread to feed the family of his starving sister. This new interpretation of Hugo's epic begins with Valjean (Liam Neeson), released after 20 years of cruelties and hard labor, reporting for parole in Dijon. Stopping at a bishop's house, he's treated with respect, but even so, he steals silverware, flees, and is captured. However, the bishop says the silverware was a gift, proving Valjean's innocence by giving him two silver candlesticks. Valjean is free, but the bishop asks him to treat others with equal kindness. By 1822, Valjean has risen to mayor of the village of Vigau, where he also maintains a successful factory. Joining the local police, Inspector Javert (Geoffrey Rush) is suspicious of Valjean's identity and eventually recognizes him as a former convict, but Javert has no proof when he carries his accusations to Paris. Valjean develops a relationship with Fantine (Uma Thurman), who lost her factory job because of local attitudes about her illegitimate daughter. The starving Fantine turns to prostitution, is arrested and tortured by Javert, and becomes ill. As she dies, Valjean promises to raise her daughter Cosette. Focusing on Valjean's life with Cosette (Claire Danes), the story is set amid the action of the July 1832 Revolution, a time when Cosette falls in love with a militant student, Marius (Hans Matheson). On the banks of the Seine, Valjean and Javert have their final confrontation. ~ Bhob Stewart, Rovi
Critic Reviews for Les Miserables
Audience Reviews for Les Miserables
½
24/01/2013 (Quickflix, PS3)
EightThirty .
Super Reviewer
A bit overdone, I think. Liam Neeson was the only strong performance. Uma Thurman was just too much. Sadly, even Geoffrey Rush didn't sell. Nevertheless, it has pretty, authentic locations and costumes -- so that's worth something.
Christian C
Super Reviewer
½
Stories of unjust persecution are always intriguing. What a justice system where stealing a loaf of bread is a lifetime prison sentence! I had to read Les Miserables in French in high school, and never quite understood it, so the details are interesting. I thought the acting was well done. Liam Neeson does great work, and Geoffrey Rush is fun to hate.
Les Miserables Quotes
There are no approved quotes yet for this movie.