The Avengers
(1998)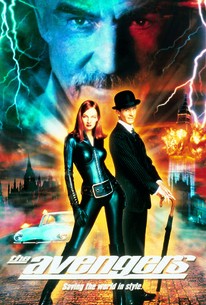 Movie Info
Jeremiah Chechick directed this $60 million adaptation of the whimsical 1961 British TV spy series, imported to the United States five years later for ABC airing (beginning 3/28/66), followed by The New Avengers (CBS, 1978-79). In the feature-length version, secret agent John Steed (Ralph Fiennes) and Emma Peel (Uma Thurman) face a meteorological menace as they track sinister super-villain Sir August de Wynter (Sean Connery), threatening to blitz Britain with blizzards and other extreme weather. Vocal cameo by Patrick Macnee (the original TV Steed).
News & Interviews for The Avengers
Critic Reviews for The Avengers
Audience Reviews for The Avengers
This movie is bad, yes, but it's an interesting type of bad movie. A lot of really cool sets and other odd visual decisions make this a rather intriguing failure. The main problem is just how boring the whole thing is, and i mean tediously boring, dull, lifeless. Uma Thurman is probably the most boring actress i have ever seen in my life. From this to Kill BIll her range hasn't improved one bit.
Tsubaki Sanjuro
Super Reviewer
½
When evil reigns, only one team can weather the storm. Pretty bad movie! Take my word for it, there is nothing in "The Avengers" for you to get. It is not clever, its not some high concept parody, its just a really, REALLY badly written, acted, and directed movie that I doubt anyone on the production team was happy with after it had been finished. NOT recommended! British Ministry secret agent John Steed, teams up with Emma Peel to stop Sir August De Wynter from destroying the world with a weather changing machine. They are called in to investigate Prospero, a plot to blackmail Britain by controlling the weather. Emma Peel is suspected of being involved but it is discovered that she has a double who works for the real baddie, Sir August de Wynter. He threatens to freeze Britain, at one point unleashing a blizzard on Trafalgar Sqaure.
½
You'd hope that with Sean Connery given the chance to play a Bond villain that this would be a bit of a rousing party ... but no. Someone forgot that the television show's appeal lightly elbowed the whole fascination with James Bond, lightly, not bludgeoned, and so the sense of fun is noticeably absent. The sets, the wardrobe, the double entendres are all present and how, overplayed to boredom. Unfortunate.
Kevin M. Williams
Super Reviewer
The Avengers Quotes
There are no approved quotes yet for this movie.