Devil in the Flesh
(1998)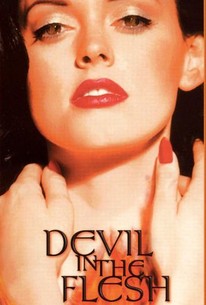 AUDIENCE SCORE
Critic Consensus: No consensus yet.
Devil in the Flesh Photos
Movie Info
Teenage lust turns deadly in this slightly campy exploitation drama. Debbie Strand (Rose McGowan) is a sexy but troubled teenager with a checkered past who is sent to live with her grandmother after the death of her parents. Grandma attempts to keep Debbie on a short leash, but she's soon sneaking out for not always wholesome fun with her new friends. Debbie, who has never had trouble attracting whatever man she wants, sets her sights on Peter Rinaldi (Alex McArthur), a teacher at her high school. However, Peter has both a fiancée and strong scruples, so he repeatedly rejects Debbie's advances. But Hell hath no fury like a Debbie scorned, and before long Peter finds that his life is ruined and bodies are piling up, as an angry Ms. Strand takes her revenge on her would-be suitor. Also released under the title Dearly Devoted (and not based on the oft-filmed Raymond Radiguet novel), Devil in the Flesh was co-scripted by Kelly Carlin-McCall, daughter of noted comedian George Carlin.
Critic Reviews for Devil in the Flesh
All Critics (3) | Fresh (0) | Rotten (3) | DVD (1)
As bad as the movie gets (which, to be fair, isn't THAT bad), Rose McGowan holds it together on at least a 'watchability' level. 'Believability' is another story.
Audience Reviews for Devil in the Flesh
Many cheesy parts (i.e. officer yelling "it hurts bad" or something along those lines after he was shot). Iffy acting, but Rose McGowan really owned this part.
Erin Collins
Super Reviewer
½
Summary: A cheesy thriller similar to the Poison Ivy series. About a beautiful girl who is somewhat insane. The Good: The plot is meh but somewhat interesting. It's pretty funny too, like the main character's christian grandma. Overall it's really just worth the watch for the beautiful Rose McGowan. The Bad: The story isn't very believable, acting is meh, story is meh. Ratings: Acting: 7/10 Story: 5/10 Originalality: 4/10 Soundtrack: 6/10 Characters: 6/10 Overall: 7/10 Sexiness: (The following is my Review for the fappers 18+): There's no nudity in this but the wonderful Rose McGowan wears very skimpy clothing throughout the film and has some very arousing scenes. There's never a moment when she's not looking great. Fap Rating: 8/10
Professor Wizenhymer
Super Reviewer
Rose McGowan plays this part wonderfully. Though this concept is in no way original, it works just well enough to be enjoyable.
Christopher Haskell
Super Reviewer
Devil in the Flesh Quotes
There are no approved quotes yet for this movie.