Dirty Work
(1998)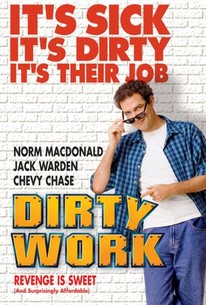 Movie Info
Saturday Night Live alumnus Norm Mcdonald falls flat on his face, in more ways than one, in this remarkably unfunny farce about two oafish pals who run a revenge-for-hire shop.
Critic Reviews for Dirty Work
Audience Reviews for Dirty Work
½
Painfully bad, Bob Saget's Dirty Work is a bland comedy that is not worth your time and relies on stupid humor for making you laugh. Problem is, is that it's not funny. This film bad, and with a poor cast that really don't bring anything good to the screen, this film should be avoided. The film is so poorly written and though it has an interesting idea for a plot, it fails due to a weak cast. I hate Norm MacDonald and Artie Lange. I find them to be very mediocre comedians that simply aren't funny. Bob Saget directs this, and he showcases his extremely unfunny humor in spades. Dirty Work might have succeeded if it had a better script, better cast and better director. This was bad. I didn't like it one bit and thought it a waste of time. This is not the type of comedy that withstands multiple viewings. Dirty Work has a bad film, one with a paper thin plot, and bad gags that don't stand out. You can watch something better than this, and as far as comedies are concerned, this one simply is a collection of poorly written jokes after the other. This could have been a great film, but it fails on almost every level, and it's not worth watching. I've seen it once when it came out, and that was enough. If you want a great comedy that will actually make you laugh, watch something else. Dirty Work simply didn't cut it, and is a pointless film that misses the mark on every level. Whenever it tries to be funny, it isn't. The humor just becomes repetitive after awhile, and ultimately unfunny. A good idea ruined by a poor script.
½
Terrible funny, but very silly and expendable. Rotten.
Lucas Martins
Super Reviewer
I saw this on TV one day, but I didn't see all of it. There were some funny scenes, but for the most part I wasn't too entertained.