The Negotiator
(1998)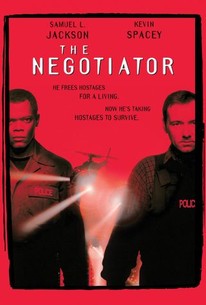 TOMATOMETER
AUDIENCE SCORE
Critic Consensus: The Negotiator's battle of wits doesn't wholly justify its excessive length, but confident direction by F. Gary Gray and formidable performances makes this a situation audiences won't mind being hostage to.
Movie Info
F. Gary Gray directed this suspenseful action thriller based on a real case experienced by police in St. Louis. The James DeMonaco/Kevin Fox screenplay follows an accused man who is forced to commit crimes in order to prove himself innocent of murder. After Chicago police hostage negotiator Danny Roman (Samuel L. Jackson) succeeds in rescuing a little girl menaced by her gun-wielding dad, he's praised by both the police department and the media, and he returns to his usual cop routines with his longtime partner, promising his new wife Karen (Regina Taylor) he'll make it home for dinner every night. Then his partner, who had evidence of embezzlement within the police department, is killed. Since Danny arrives at the crime scene only seconds later, he's the main suspect, and Chief Al Travis (John Spencer) asks him to turn in his gun and badge. Danny invades the Chicago Internal Affairs Division headquarters and tries to get the truth from Inspector Terence Niebaum (J.T. Walsh) while holding two assistants and Commander Frost (Ron Rifkin) as hostages. He then calls for an outsider from another precinct, hostage negotiator Chris Sabian (Kevin Spacey). When Sabian arrives, the two compete for control, while Danny attempts to prove to him that he's been falsely accused. The film is dedicated to J.T. Walsh, who died not long after the production wrapped. ~ Bhob Stewart, Rovi
News & Interviews for The Negotiator
Critic Reviews for The Negotiator
Audience Reviews for The Negotiator
Its a walk in the park for the two leads who enliven this ho-hummer about police corruption and some money missing from the patrolmen's fund. The interesting twist is the battle of wits between two professional hostage negotiaters.
Kevin M. Williams
Super Reviewer
Based on actual events, F. Gary Gray directs this tense action/suspense thriller about Danny Roman- a top Chicago hostage negotiator who, after being framed for murder and suspected of departmental corruption, takes desperate measures to clear his name and discover the truth by taking hostages of his own and forcing a fellow top negotiator from a different district to diffuse the situation. The film does get overwrought and maybe a bit much in terms of believability from time to time, but is nevertheless an extremely suspenseful thrill ride punctuated by solid performances from a great cast. Samuel L. Jackson is tremendous as Roman, and Kevin Spacey is likewise very top-notch as the outsider negotiator Chris Sabian. Those two work well together, and I'd love to see them do more work with one another in the future. J.T. Walsh gives a solid turn in one of his final films as a shady player at Internal Affairs whom Danny takes hostage, and, for comic relief, there's Paul Giamatti as a weaselly informant. And it also doesn't hurt to get solid, if typical work from David Morse as one of Danny's colleagues who is conflicted by how to handle the situation. That's one aspect where the film really shines. The hostage taker knows all the rules and tricks, and the fact that he has a history with the people on the other side (who might also be the people that set him up) make this a real nail-biter at times. Having an outsider come into the situation is also great as he could be more trustworthy in Danny's eyes, but not necessarily. Plus, he's got to deal with Danny's department, who likewise don't know or really trust him. Like I said, the film isn't perfect, but is still very thrilling, extremely gripping, and holds together quite nicely. F. Gary Gray gets crap as a director for being rather contrived and cliched, but when it comes to delivering crowd pleasing entertainment, he's great, and this is a film I really recommend.
Chris Weber
Super Reviewer
Another flixter deletion, I reviewed this a long time ago but it was probably too colorful. The length could be condensed but I think it's one of Samuel Jackson's best movies in a leading role. It has a solid supporting cast and is a prime example of his yelling abilities.
Lenny Muggsy
Super Reviewer
The Negotiator Quotes
| | |
| --- | --- |
| Danny Roman: | It didn't work, Beck! I'm still alive, motherfucker! |
| | |
| --- | --- |
| Stacy Sabian: | I'm a pill. |
| | |
| --- | --- |
| Rudy: | You know what Nietzsche says: Even the strongest have their moments of fatigue. And I'm fatigued, Danny. I'm just, I'm fucking fatigued. |
| | |
| --- | --- |
| Chris Sabian: | I once talked a guy out of blowing up the Sears Tower but I can't talk my wife out of the bedroom or my kid off the phone. |