Blade
(1998)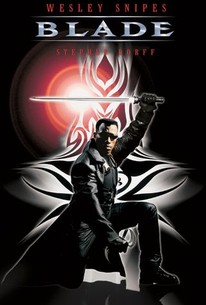 TOMATOMETER
AUDIENCE SCORE
Critic Consensus: Though some may find the plot a bit lacking, Blade's action is fierce, plentiful, and appropriately stylish for a comic book adaptation.
Movie Info
British director Stephen Norrington helmed this David S. Goyer adaptation of the Marvel Comics character created in 1973 by scripter Marv Wolfman and artist Gene Colan. In the Tomb of Dracula comic book origin, just before Blade's mother gave birth to Blade, she was bitten by a vampire, which made Blade immune to vampires. Now a vampire hunter, Blade, joined by vampire detective Hannibal King and Dracula-descendent Frank Drake, stalks vampires. In the 1990s (in Marvel's Nightstalkers), Blade teamed with Drake and King in an agency created to fight a variety of supernatural beings. The Marvel origin is retold in this 1998 Norrington film, with Blade's mother dying as he is born. Thirty-some years later, Blade now exists somewhere between the two worlds, not human but not fully vampire. He has become a relentless and superhuman vampire hunter, out to avenge the death of his mother and protect the rest of humankind from the evil vampire race. In this pursuit, Blade storms a notorious vampire nightclub and in a virtual bloodbath manages to wipe out most of the blood-lusting denizens. But the burnt corpse of vampire Quinn (Donal Logue) is reanimated at the hospital morgue and bites hematologist Karen Jenson (N'Bushe Wright). Blade magically appears at the hospital just in time to whisk Karen to his hideaway, a machine-shop run by his mentor Abraham Whistler (Kris Kristofferson), who once rescued Blade and who now produces a antidote to keep Blade from turning into a full-fledged vampire and who builds custom weapons for Blade to use against his evil foes. Meanwhile, Blade's vampire arch-nemesis Deacon Frost (Stephen Dorff) uses computers to translate the Book of Erebus, with the ultimate aim of bringing down the old-guard vampire council, headed by Dragonetti (Udo Kier), and triggering the Blood Tide -- an event in which everyone in the world becomes a vampire. ~ Bhob Stewart, Rovi
Audience Reviews for Blade
½
A great kick vampire ass film. Great special effects, fights and action, all to a thumping sound track.
½
A fun little comic book movie that is obviously a little dated today, but still a fun watch. Wesley Snipes makes a great Blade and makes him a pretty cool character. The mythology and backstories are the interesting part of the plot because the main storyline is pretty generic, but pushes the movie along at a decent pace. The special effects are the most dated aspects of the film, but they are also part of the goofy charm that is exuded throughout the film. Blade is very stylish and certainly paved the way for many future comic book adaptations and action movies. It's worth a watch for action aficionado's or anyone with an interest in early comic book adaptations, but everyone else might not get much out of it. I am firmly in the former.
Josh Lewis
Super Reviewer
The script can be labeled as bland, but Blade is true to its comic-book origins and stylish. The film, with the help of Wesley Snipes, is bloody, action-packed and has no hesitation in delivery and impact. 4/5
Eugene Bernabe
Super Reviewer
Blade Quotes
| | |
| --- | --- |
| Whistler: | Christ! I'm too old for this! Somebody get me a goddamn wheelchair! |
| | |
| --- | --- |
| Deacon Frost: | Nice catch! |
| | |
| --- | --- |
| Deacon Frost: | Your serum? |
| | |
| --- | --- |
| Blade: | When you understand the nature of a thing...you know what it's capable of. |