Mafia!
(1998)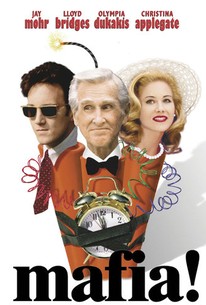 Movie Info
Satirist Jim Arahams returned with this comedy spoofing the Godfather trilogy, and other films and TV, including Jurassic Park, Lord of the Dance, and Barney. The opening emulates a Saul Bass sequence with Anthony Cortino (Jay Mohr) in a flight amid flames much like Robert De Niro in the Casino credits. After flashbacks go back in time to Sicily, Coppola/Scorsese references abound. Young Vincenzo (Jason Fuchs) travels to America to later become the clumsy chief of organized crime (with the late Lloyd Bridges as the aging Vincenzo) with his sons -- short-fused Joey (Billy Burke) and educated Anthony. Tony's WASP fiancee is Diane (Christina Applegate), recalling Diane Keaton in the Coppola films. During the wedding, assassins try to do away with Don Vincenzo, who's hospitalized, so Tony sets out to gain revenge for the murder attempt. In Vegas, Tony gets involved with showgirl Pepper (Pamela Gidley). When betrayals begin, can violence be far behind? This was Lloyd Bridges' final movie, and the film is dedicated to him.
Critic Reviews for Mafia!
Audience Reviews for Mafia!
½
Pretty decent comedy that spoofs crime films. The cast here are pretty good, nothing ever special. The film does manage to bring on a few good laughs, but it's never anything memorable. This is a mindless comedy flick that you realize could have been better. For what it is, it's a good effort, but the result is far from striking. The film definitely makes you smile, as the comedic elements used are pretty stupid. If you want a perfect film to watch with friends, Mafia is the one. Though nothing ever great, this film is still entertaining for what it is. The cast do a decent job here, and despite its limitations, Mafia! Manages to be an entertaining film. Just don't expect anything truly great to come out of this film, as you may be disappointed. Jim Abrahams does a good job directing this film, even if it's not among his greatest comedic achievements, Mafia! Still has enough laughs to be an entertaining flick to watch. The comedic elements aren't too original or clever, but it still manages to be mild fun. As a comedy, Mafia! Does work, even though it's not perfect. The comedy is decent and fun, but overall there also could have been more effort put into this film. As a spoof film, Mafia! Is one of the last spoof films to really be fun to watch, afterwards we had the countless Scary movie clones that would be awful to watch. Despite its faults, Mafia! Is good fun, and a decent flick to watch. I liked the film and felt it brought on good to decent laughs, but at the same time it needed something more to put it in the same league as other classic spoof films such as Airplane! and Hot Shots!
½
I was really looking forward to seeing this film last night as I am a huge fan of the Airplanes, Hot Shots, Police Squads, Naked Guns and Top Secret. I found this on lovefilm and thought - why have i never heard of this? I haven't laughed this hard for ages. I admire the filmmakers so much for being so clever and entertaining. The production values are really high as well, everything looks quality and well made. Older films like Airplane etc can look cheap but it adds to their charm, so it was nice to see this modern film which was hardly a blockbuster, made so well and looking like the budget was much higher. Of course not every joke tickled my funny bone, I could have done without the farting, spewing and when Lloyd Bridges get shot up but people think he's dancing. But apart from that I found it absolutely hilarious and I can't wait to see it again. Jay Mohr is so great - if you can, watch Action. It's a TV series he did, only one series but it's soooo good! Really funny and totally uncheesy like all American sitcoms feel they have to be. It's about a Hollywood producer. Anyway, back to Mafia. The writers have worked so hard, not only on the script but the visual gags, injokes and references. I love spotting a funny poster, or something in the credits. Everyone has put so much effort into making this movie the best and the funniest it could be. I was stunned by the low rating but hey, different strokes for different folks. If you are reading the comments, deciding whether or not to rent/buy this movie, I definitely think you should - especially if you are a fan of Airplane,Top Secret, Police Squad, Naked Gun, Police Academy and Hot Shots. Fun Fact! Actor Jay Mohr is allergic to poi What the hell is poi?
Cassandra Maples
Super Reviewer
The spoof comed which is a comical tribute to all the great Amercian gangster movies. Perhaps, not quite as amusing as I remember, but a good watch and if you?ve seen all the original films that this film references, then of course you will find the funnier side.
Lady D'arbanville
Super Reviewer