Rounders
(1998)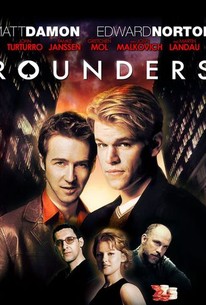 Movie Info
Set against the backdrop of New York's high-stakes underground poker world. Mike McDermott, a master card player who trades the poker playing rounds for law school and a shot at a new life with his girlfriend. For Mike, the new life he is staking out seems to be a legitimate road to success, but it is short on thrills and excitement of backroom poker games. When his friend is released from prison, Mike is faced with the high-stakes dilemma of his life.
Critic Reviews for Rounders
Audience Reviews for Rounders
Spencer Macklin
Super Reviewer
½
Matt Damon is Mike McDermott, a law student who makes his primary living as a rounder- a master poker player who makes the rounds from club to club making the big bucks. After losing it all to Teddy KGB, a ruthless Russian with mob ties played by John Malkovich, Mike gets out and vows to never return. Nine months later however, he finds himself drawn back when his childhood friend "Worm" (Edward Norton) gets released from prison and has to scramble to pay off a massive debt he accumulated prior to his incarceration. Despite his vow the urging of his girlfriend and fellow law student Jo (Gretchen Mol), and his better judgment, Mike buckles up and set out to do the only thing he's really good at, despite the risk. This film has garnered a reputation for being a sleeper hit, or at least a growing cult classic, and that's totally fine. Since Texas Hold 'Em has gotten so big since this film came out, that's probably a reason for why this one hasn't totally fallen by the wayside. It is a decent film with a good story, and, despite some contrivances and cliches here and there, the film is pretty grounded and realistic in its representation of the world of high stakes underground poker. Besides the names I've mentioned already, the cast also includes John Turturro, Famke Janssen, and Martin Landau. It really amazes me how they managed to pull together such an awesome cast. And thankfully, all of their combined talents are totally wasted, and they generally give some credible and solid performances. The film moves along at a decent pace, there's good atmosphere, and, like I said, the story's fairly decent. All in all, this might not be the greatest movie, but it's entertaining, well acted, and, despite being rather superficial, is still passable and worthy of a watch.
Chris Weber
Super Reviewer
Brilliant film about the underworld of high stakes poker. Director's John Dahl's effective direction is what keeps you interested and the tone of the film that of a film noir, which adds so much to the film's atmosphere. The cast are wonderful in their parts, and the plot is very engaging, thrilling from start to finish. Edward Norton and Matt Damon are terrific here, and they both have intense on-screen chemistry. Rounders is a must see for poker fans, and with a well crafted script, great acting and a memorable cast of talented actor that star alongside Norton and Damon, this is an accomplished film that will leave you wanting to see it again and again. If you enjoy a thrilling story with effective direction and a great cast, this film is for you. Rounders reminded me of the Mars Callahan film Pool hall Junkies, but this was a much better acted film with a more developed plot. Enjoyable if you're a fan of poker and to the common film goers looking for a terrific flick that is sure to electrify the viewer. Well crafted from beginning to end, Rounders is a wild ride and even if it lacks in some areas, there's enough good elements at work on-screen that make the film overcome its flaws and with an effective pacing set by director John Dahl, this is a well executed hustler flick that is very cool to watch. With a great script and wonderful acting, Rounders is a film that you won't soon forget. Thrilling from the first frame onwards, Dahl's film delivers, and is never dull and highly entertaining. It
Rounders Quotes
| | |
| --- | --- |
| Teddy KGB: | Just like a young man coming in for a quickie...i feel so unsatisfied. |
| Teddy KGB: | Just like a young man coming in for a quickie... I feel so unsatisfied. |
| | |
| --- | --- |
| Joey Kinish: | Happens to everyone, time to time everyone goes bust. You'll be back in the game before you know it. |
| | |
| --- | --- |
| Grama: | I consolidated your outstanding debt. |
| Worm: | where did you get the scrach for that, youv been rolling fags in the village. |
| Worm: | Where did you get the scrach for that, youv been rolling fags in the village. |
| Worm: | Where'd you get the scratch for that? You've been rolling fags in the Village again. |