The Thin Red Line
(1998)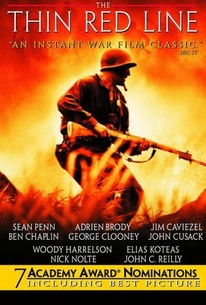 Movie Info
The return of director Terrence Malick to feature filmmaking after a twenty year sabbatical, this World War II drama is an elegiac rumination on man's destruction of nature and himself, based on James Jones' semi-autobiographical novel, his follow-up to From Here to Eternity. James Caviezel stars as Private Witt, a deserter living in peace and harmony with the natives of a Pacific island paradise. Captured by the Navy, Witt is debriefed by a senior officer (Sean Penn) and returned to an active duty unit preparing for what will be the Battle of Guadalcanal. As Witt goes ashore in the company of his fellow soldiers, they meet diverse fates. Sergeant Keck (Woody Harrelson) is killed by an exploding grenade. Captain John Gaff (John Cusack) is an intelligent, sober leader facing the destruction of his command because his commanding officer Colonel Tall (Nick Nolte) is bucking for a general's star. Sergeant McCron (John Savage) loses his mind. Private Bell (Ben Chaplin) gets a "Dear John" letter from his beloved wife. However, as the U.S. troops advance up grassy slopes toward entrenched Japanese positions, it is Witt's voiced-over ruminations on life, death, and nature that are the real heart and soul of The Thin Red Line (1998). Adrien Brody appears as Private Fife, the major character of Jones' novel and the author's alter-ego, although Fife has been relegated to a minor supporting role by Malick's filmed adaptation. ~ Karl Williams, Rovi
News & Interviews for The Thin Red Line
Critic Reviews for The Thin Red Line
Audience Reviews for The Thin Red Line
½
Twenty years after making Days of Heaven, Terrence Malick emerged from hiding to write and helm this star-studded ensemble drama centered around the Battle of Guadalcanal during World War II. And, true to form (for Malick, that is), this is and isn't a war film, or at least not entirely in the conventional sense. It's a war film on multiple levels, as we get man versus man, man versus nature, man versus himself, and perhaps a touch of nature versus nature as well. I can't remember. It's been a while since I've seen this. I can't even begin to list the cast here, as it is quite long, but filled to the brim with man notable names. Some only appear for the briefest of moments, and others get quite a lot of screen time, even if they don't really say much, if anything at all. As I've said before, Malick's films are all basically the same save for plot/story specifics and cast. They're all predominately shot (and shot superbly) outdoors, have great emphasis on visuals, lots of voice over narration, and are generally light on plot, but heavy on themes, going for a very abstract approach. When the film does decide to be semi-conventional with things, it does a passable job with the history. Granted, it's mostly used as a backdrop for Malick's larger, broader, abstract picture, but it still maintains a level of care and knowledgeability of the subject and era. If you like Malick, then this is a must see. If you favor artsy, visually stunning, but plot light dramas, then yeah, give it a look. If not, then you may want to watch something else.
Chris Weber
Super Reviewer
The WWll Battle of Guadalcanal is merely a backdrop for a look at the nature of men at a time when true nature purportedly reveals itself. Elegantly sublime and respectful, her beautiful imagery shocking because of what it takes to make us see it: somebody's got to die. There are no real "stars" here either, only moments all too briefly passed with faces we only begin to glimpse and then they're gone, all of us on a scary ride to who knows where.
Kevin M. Williams
Super Reviewer
somehow this surrealistic rumination on nature (both phyical and psychological)manages to become the most real of war films. All of the grass level filming, where you can't really see the enemy... claustrophic and metaphoric at the same time. This is the zen of war - the film really puts you right there, letting you see all the casualties and conflicts and letting you decide which path you would take if you were "enlisted". Fine performances abound, and I found Nick Nolte's Colonel Tall to be an awesome portrayal. 14 years have passed with this film, and I found it fun to see all the actors who just "show up" in cameo roles, like John Travolta and George Clooney. My only real complaints about this film have to do with pacing and length. At 3 hours, there certainly was ample opportunity for some judicious editing (many a scene, especially the flashbacks and more surreal material, could have been shortened) - which would have given a tighter narrative; but even that wouldn't have covered the big "breather" that the film takes about 3/4 of the way through. After the hill is taken and Charly Co returns to base camp, the film loses all momentum dealing with the aftermath of the campaign, which makes the then repositioning of the company up river under new and incompetent command, seem a superflous tag - a feeling compounded by the sacrifice made by the film's narrator and "soul". Better if the film would have left out this portion of the film entirely and cut to the company leaving Guadacanal on the LCV. Yet, in spite of these obvious missteps, the film is compelling, and its ruminations on the origin of evil and mankind's loss of harmony make this film a must see.
paul sandberg
Super Reviewer
The Thin Red Line Quotes
| | |
| --- | --- |
| Pvt. Bell: | We... We together. One being. Flow together like water. Till I can't tell you from me. I drink you. Now... Now. |
| | |
| --- | --- |
| Pvt. Bell: | My dear wife. You get something twisted out of your insides by all this blood, filth and noise. I want to stay changeless for you. I want to come back to you the man I was before. How do we get to those other shores? To those blue hills? Love--where does it come from? Who lit this flame in us? No war can put it out, conquer it. I was a prisoner. You set me free. |
| | |
| --- | --- |
| Lt. Col. Gordon Tall: | "All the sacrificed for me... Poured out like water on the ground. All I might have given for love's sake; too late. Dying. Slow as a tree." |
| Lt. Col. Gordon Tall: | All the sacrificed for me... Poured out like water on the ground. All I might have given for love's sake; too late. Dying. Slow as a tree. |
| | |
| --- | --- |
| Pvt. Witt: | "I remember mother when she was dyin'; all shrunk up and grey. I asked her if she was afraid... she just shook her head. I was afraid to touch the death I seen in her. I couldn't find nothin' beautiful or upliftin' about her goin' back to God. I heard people talk about immortality... But I ain't seen it. I wondered how it'd be when I died. What it'd be like to know that this breath now was the last one you was ever gonna draw... I just hope that I can meet it the same way she did. With the same... calm. Cause that's where it's hidden -- the immortality I hadn't seen." |
| Pvt. Witt: | I remember mother when she was dyin'; all shrunk up and grey. I asked her if she was afraid... she just shook her head. I was afraid to touch the death I seen in her. I couldn't find nothin' beautiful or upliftin' about her goin' back to God. I heard people talk about immortality... But I ain't seen it. I wondered how it'd be when I died. What it'd be like to know that this breath now was the last one you was ever gonna draw... I just hope that I can meet it the same way she did. With the same... calm. Cause that's where it's hidden -- the immortality I hadn't seen. |