Cousin Bette
(1998)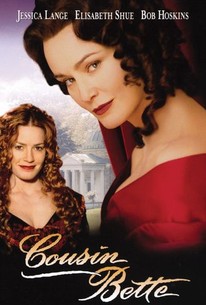 Movie Info
Acclaimed theater director Des McAnuff made his feature-film directorial debut with this period comedy-drama adapted from Honore de Balzac's novel La Cousine Bette (1846) about a jealous and bitter spinster who attempts to destroy the romance between her niece and a Polish sculptor. In Paris of the 1840s, spinster Bette Fisher (Jessica Lange) steps in to "take care" of her relatives after a decline in the Hulot family fortunes, mainly due to wastrel Hector Hulot (Hugh Laurie). After penniless sculptor Wenceslas Steinbach (Aden Young) marries Hector's daughter, Hortense (Kelly Macdonald), Bette schemes and plots, drawing Hector's mistress, music-hall star Jenny Cadine (Elisabeth Shue), into her web by arranging for wealthy Cesar Crevel (Bob Hoskins) to become Jenny's benefactor. Filmed at locations in and around Bordeaux. Shown at the 1998 Seattle Film Festival. ~ Bhob Stewart, Rovi
Critic Reviews for Cousin Bette
Audience Reviews for Cousin Bette
Jessica Lange plays a family's dowdy ugly duckling, given the short shrift habitually, who's as mad as hell and not going to take it anymore in this flighty costumer that promises more than it delivers. Revenge, served at room temperature.
Kevin M. Williams
Super Reviewer
½
[font=Century Gothic]"Cousin Bette" starts in 1846 in Paris where Bette(Jessica Lange) declines an offer following the death of her sister(Geraldine Chaplin) to serve in the widow's(Hugh Laurie) household. Instead, she makes ends meet barely in a variety of tasks including making costumes for the theatre. Despite that, she still visits with them frequently, especially young Hortense(Kelly Macdonald) who is set to be married off. At the advanced age of 40, Bette is also unmarried, hoping one day that her prince will come. He does sort of when a broke Polish sculptor, Wenceslas(Aden Young), attempts to kill himself and she nurses him back to health.[/font] [font=Century Gothic][/font] [font=Century Gothic]"Cousin Bette" is proof that a very good cast is no guarantee for a movie's quality, especially with miscasting as egregious as it is here. To start, it is hard to buy Jessica Lange as plain and unassuming. And Hugh Laurie is simply much too young for his part. These are the least of the flaws on display which include insufficient character development, broad caricatures and lackadaisical direction. The fragmented narrative which never truly comes together feels like there is quite a bit missing. All of which is a shame because there are some very witty moments and an intriguing setting on the cusp of the 1848 revolutions which rocked the French monarchy once and for all.[/font]
Cousin Bette Quotes
There are no approved quotes yet for this movie.