Life Is Beautiful (La Vita è bella)
(1997)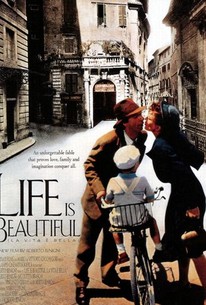 TOMATOMETER
AUDIENCE SCORE
Critic Consensus: Benigni's earnest charm, when not overstepping its bounds into the unnecessarily treacly, offers the possibility of hope in the face of unflinching horror.
Life Is Beautiful (La Vita è bella) Photos
Movie Info
In this WW II tragicomedy, famed Italian funnyman Roberto Benigni (The Monster) portrays Guido, who moves during the '30s from the country to a Tuscan town, where he is entranced by schoolteacher Dora (Nicoletta Braschi, Benigni's real-life wife). Dora likes Guido, but she remains faithful to her pompous fiancé, so Guido has an uphill struggle. Meanwhile, anti-Semitic attitudes lead to attacks against Guido's Jewish uncle (Giustino Durano). Leaping ahead to five years later, during WW II, Guido and Dora are married and have a son Giosue (Giorgio Cantarini). After they are imprisoned in a concentration camp, Guido goes to elaborate lengths to keep his son from understanding the truth of their situation. He tells the boy that they are competing with others to win an armored tank -- so everything from food shortages to tattoos is explained as necessary for participation in the contest.
Critic Reviews for Life Is Beautiful (La Vita è bella)
Audience Reviews for Life Is Beautiful (La Vita è bella)
½
Buongiorno Principessa! A very powerful film that begins pre-war as a slap-stick comedy, introducing our characters with some memorable clever scenes, but then shows its real genius in the second-half when Guido uses his fast-talking talent to keep his young son's high spirits and childhood naivety intact during their internment in a concentration camp. Guido's character has an extremely and uniquely playful perspective on life that with great skill carries him, his son and indeed his wife, on through some of the most bleakest times anyone could ever experience.
Ross Collins
Super Reviewer
½
I think you have to give this film credit just for having the guts to address a heavy subject like the Holocaust in the manner done here, which is predominately with a lighthearted tone. That's a big risk, but it mostly pays off here. Basically the movie is about a man who tries to shelter his son from the ugliness of the world. Guido has a Jewish background, and when he and his son are sent to a concentration camp, he does his best (really going to elaborate lengths at times) to keep his son from finding out the brutal truth of their situation. He mostly does this by telling him they are playing a game. This really could have gone badly, but it doesn't. Benigni (as actor and director) uses just the right touch to pull this delicate balancing act off. The film is admittedly rather uneven (especially when it really starts to get heavy and dark near the end), but I think the approach here is an interesting one to take when trying to educate kids about such a dark era. Benigni does give an excellent performance in the lead, and it's almost as memorable as his acceptance speech for when he got the Oscar for his work here. The other performances are also really good, but this is definitely Benigni's show. The film has great technical stuff, is pretty funny at times, and also very heartwarming/wrenching when necessary. Definitely a challenging film, and not without its flaws, but it is thought provoking, and something I highly recommend.
Chris Weber
Super Reviewer
½
The film's highlight is one man's battle to keep the ugliness of the world from his innocent son, no matter how ugly the world might be, and in this case that means the death camps of the Nazis. Leaning heavily on the silent film comedies of the 20's, physical comedian Benigni is achingly sincere, sometimes to the good, sometimes to the bad, nonetheless one is left with an important consideration: who's version of events are most important? He contends, like few before, that if we make our own reality, then isn't it better to be smiling?
Kevin M. Williams
Super Reviewer
Life Is Beautiful (La Vita è bella) Quotes
| | |
| --- | --- |
| Uncle: | Nothing is more necessary than the unnecessary. |
| | |
| --- | --- |
| Dr. Lessing: | If you speak my name, I vanish. What am I? |
| Guido: | Il Silencio! (Silence) |
| Guido: | Il Silencio! [silence] |
| | |
| --- | --- |
| Guido: | I forgot to tell you. |
| Dora: | Go ahead. |
| Guido: | You can't imagine how much I feel like making love to you. But I'll never tell anyone, especially not you. They'd have to torture me to make me say it. |
| Dora: | Say what? |
| Guido: | That I want to make love to you - not just once, but over and over again! But I'll never tell you that. I'd have to be crazy to tell you. I'd even make love to you now... right here for the rest of my life. |