Mighty Joe Young
(1998)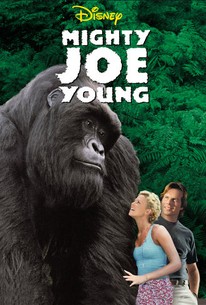 Movie Info
After being discovered in the African outback, a twenty foot ape and his young woman companion escape to Los Angeles where the become an instant sensation.
News & Interviews for Mighty Joe Young
Critic Reviews for Mighty Joe Young
Audience Reviews for Mighty Joe Young
It is all very Hollywood, but a watchable film none-the-less. A remake of the old black and white classic and a landmark of how far film effects have come during that length of time.
Lady D'arbanville
Super Reviewer
Remake of the classic original which had classic Harryhausen effects, this newer model actually does justice to the first film whilst giving us a much more vivid visual treat. The original film was created by the same team that made the original King Kong film so you obviously have allot of similarities in plot and action sequences but I guess you gotta over look that alittle. The newer film is similar with its plot yet tweaked here and there with minor changes but its almost along the same lines, the main changes are of course the effects which do look surprisingly good for a film made in 98 with cgi of the time. All 'Joe' sequences are pretty darn good showing allot of good hair detail including movement and that shine gorilla hair has, mixed with exceptional puppet/masks using animatronics by the legendary Rick Baker you can see why it looks so good. The cgi is the main surprise though which is really well done blending with most backgrounds pretty well, some sequences are obvious but its not bad at all, I must admit I was taken aback when viewing this again at how well it stands up today. Its a typical Disney type film of course with cliched characters, allot of corny moments and predictable setups but the original was actually like this too so Disney have remained reasonably faithful. Its still very much a 'Kongish' film right up to the final moment and myself I didn't really like it when Joe gets loose and runs amok then saves the kid, too kong-like and mawkish at the same time but its still an above average film mainly thanks to Baker and his work.
Phil Hubbs
Super Reviewer
A very good movie! Bill Paxton held this together more than it already was!