Celebrity
(1998)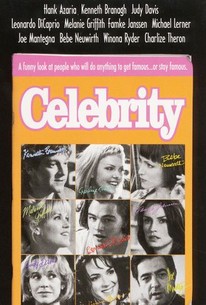 Movie Info
When a reporter is assigned to the celebrity beat he anticipates a little excitement. But he never expected this... Quickly, he finds himself on a collision course with four of the most outrageous people he has ever met: a sensuous starlet, an out-of-control movie star, an aspiring actress, and a sexy supermodel. Together they're going to take him for an unforgettable walk on the wild side of fame and fortune.
Critic Reviews for Celebrity
Audience Reviews for Celebrity
½
I struggled to find interest in this movie. Perhaps I'm not artistic enough, but I didn't see the point of the B&W, and it just dragged.
Woody Allen movie about a mix of celebrity lifestyles. Leo makes a cameo appearance as a crazed movie star into drugs and women. I trust this is an overinflated version of his life.
Candy Rose
Super Reviewer
At the core of Celebrity is an idea too good to screw up: revisit Fellini's La Dolce Vita, set it in the contemporary world of show-business, and replace Fellini's stoic, handsome stand-in (Marcello Mastroianni) with a Woody Allen-esque goofball. Not only is the concept of Woody Allen lost in a world of beautiful, superficial people intrinsically funny, but in holding up the the elegant world of 1960s Italian bohemians alongside the artificiality of 1990s American celebrities, the satire basically writes itself. However, reimagining what for my money is one of the greatest films of all time is a tall task, even for a director as great as Woody. The aforementioned Allen-esque goofball is played by Kenneth Branagh. His performance, in which he overtly mimics Woody Allen, has been almost universally derided. I don't think there any problems with the writing or casting of his character. Amidst the pristine movie stars and hungry publicists, there's huge comic potential for an awkward neophyte trying desperately to get his foot in the door, but the real Woody Allen is a bit too gawky, and a little too old. Plus, had he cast himself, it might've added an element of discomfort to the proceedings. When Branagh seduces Winona Ryder and Charlize Theron it's merely improbable; if it was Woody, it would've been narcissistic. The stand-in needs to be someone younger, more generic-looking, and slightly more authoritative. Allen's previous headliner John Cusack would have been a good choice. The Shakespearean Branagh seems an odd choice, but he adopts a goofy haircut and desperate smile that at least make him look the part. In Celebrity's early-going, I found myself enjoying Branagh's take on Allen's angsty New Yorker archetype, but as the movie progresses, acting starts to give way to imitating --indeed, Branagh explicitly starts imitating Woody. Allen's speech patterns and inflections are mimicked with incredible precision. Branagh's performance is not a disastrous artistic choice, but it is a distracting one. Defending himself against this common criticism, Woody Allen once claimed that only when he's forgotten will Branagh's performance be truly appreciated (as it would then no longer be viewed as an imitation). I suppose that could be true, although Celebrity will be forgotten long before Woody Allen. At this point, his screen persona is as indelible as those of John Wayne or Groucho Marx. As for the thematic concerns, and the aim to be a "modernized La Dolce Vita," the results are mixed. Sure, I'm biased because I put Fellini's masterpiece on a pedestal, and Allen definitely observes and comments on the nature of celebrity, but it doesn't quite have the poignancy nor does it touch upon the overarching societal problems that a fame-obsessed culture possesses quite as well. Like La Dolce Vita, Celebrity doesn't have a pointed narrative, it's more of a series of episodes and vignettes connected by one or two common characters. The two movies also share a surreal, dream-like quality. Neither seem to take place in a real world, but in spin-off, slightly tweaked universes. In Fellini's world, consequences are non-existent, and the characters all seem to treat life as a bit of a joke. In Allen's world, everyone is vapid, but gravely serious. It's the voice behind it (Allen's) that's amused. The gorgeous black & white cinematography by Sven Nykvist - the Bergman regular who also worked on the similarly striking Another Woman - brings the movie further into a dream-state. It has a soft-focus fuzziness that makes people look like airbrushed magazine models, and visual contrast that often turns backgrounds and faces solid black or solid white, making them seem like they're floating. This is one of the first movies from Allen that has a vivid sense of place without that place being Manhattan. Like all of Allen's movies, it takes place in (and was filmed in) New York, but it doesn't seem like it. If anything, the world of Celebrity seems more like an exaggerated Hollywood. It might have made more sense to film it (or at least set it) on the west coast, although that would have required the notoriously home-bound Allen to leave his apartment for upwards of a month. Celebrity reminded me a lot of Shadows and Fog. For one thing, they're both black & white movies that no one else liked (as of 1998, these are Allen's only two movies to have a "rotten" score on rottentomatoes.com). Both also have a Franz Kafka stand-in for a hero, a star-studded cast of eccentric and maddening supporting characters, and a deceptively light tone with dark undercurrents. In Shadows and Fog, that undercurrent was sometimes genuinely menacing, whereas in Celebrity it's more sarcastic and cynical. Allen seems equal parts amused and dismayed by the people who live in Celebrity. All of this leads to what I'm sure is a very unpopular opinion, which is that I prefer Celebrity to Deconstructing Harry. The latter had a similar structure, although it felt disjointed, and many of the asides seemed pointless. Celebrity, on the other hand, has a consistent tone, and a unifying caustic sense of humor. Every detour seems like a piece of a puzzle, even if they're put down in random order. That said, it can't measure up to the film it's honoring, but that's not a bad thing -- very few can.
Jonathan Hutchings
Super Reviewer
Celebrity Quotes
| | |
| --- | --- |
| Supermodel: | Hey...nice car. |
| Lee Simon: | Uh...thank - uh, would you...do you wanna drive it? |
| Supermodel: | It's yours? |
| Lee Simon: | It's, what am I a car thief or something? Of course it's mine, it's uh, it's an Aston Martin. You're very uh, you're so welcome because it's a, it's a great uh...you're, you're wearing a wig, which is uh... |
| Supermodel: | Gimme the keys. |
| | |
| --- | --- |
| Lee Simon: | (Thinking to himself at his high school reunion) What happened to all my classmates? Everyone's so mature looking and overweight. I didn't age that much...unless I did and I can't see it. |