Lolita
(1997)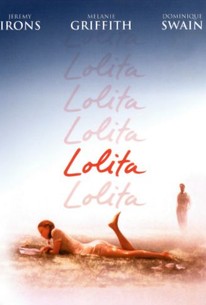 TOMATOMETER
AUDIENCE SCORE
Critic Consensus: If it can't quite live up to Nabokov's words, Adrian Lyne's Lolita manages to find new emotional notes in this complicated story, thanks in large part to its solid performances.
Movie Info
Humbert Humbert is a fine and distinguished gentleman, a citizen of the world, a lover of European culture, who teaches French literature in a small town in New England. And, in this year of 1947, he is looking for accomodation.
Critic Reviews for Lolita
Audience Reviews for Lolita
½
Nabakov's insightful questioning of the values of modern Western culture are still wonderfully hidden in this take on his still discomforting tale about living your dream, about the myth of having it all. Excellent turns by the cast almost give one to forget the mischevious, indelicate way the subject is approached. The puzzle here is that Nabakov's ( and the original film's ) "you-know-I'm-joking, right, just-making-a-point?" wink at you is replaced by Lyne's decision to simply tell the tale straight, w/o any curves at all ... is that a good or a bad thing? Its certainly more terrifying.
Kevin M. Williams
Super Reviewer
I expected it to be much more disturbing, however since it was Lolita who started all their exploits it wasn't as creepy or perverted. Saying that, it was uncomfortable to watch at times especially with the great performances by Irons and Swain. The character of Lolita was very well done as she acted incredibly childish and immature for her age but then suddenly switched when she wanted something. She knew exactly what she was doing. I sort of felt sorry for Humbert as she was blatantly playing him and he fell for it because of his past. However, he still shouldn't have given in to his desires and they both got what they deserved in the end.
Sophie Burgess
Super Reviewer
½
Where do I even start with this movie?! I seem to have fallen into a trap of late of watching movies that seem to have this child/adult love theme. I had the book for ages and never read it, resigning myself to watch the movie before hand (which is something I very rarely do) and I am happy I did because now I could not imagine the characters as anyone but those in movie. Jeremy Irons again perfection, his narrative in this film haunting and resonant even if there were moments when I wondered why the hell I was watching it! Kinda slow, but never dull.
Unknown Hobo
Super Reviewer
Lolita Quotes
| | |
| --- | --- |
| Humbert Humbert: | She was Lo, plain Lo, in the morning, standing four feet ten in one sock. She was Lola in slacks, she was Dolly at school. She was Dolores on the dotted line. But in my arms she was always - Lolita. Light of my life, fire of my loins. My sin. My soul. |
| | |
| --- | --- |
| Lolita: | I was a daisy fresh girl and look what you've done to me. |
| | |
| --- | --- |
| Lolita: | You look a 100% better when i can't see you |
| Lolita: | You look a 100% better when I can't see you. |