Incubus
(1965)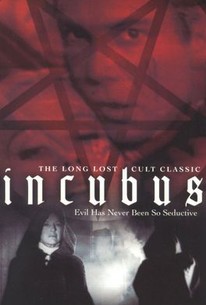 Movie Info
One of the strangest productions ever committed to celluloid, and the first feature with all dialogue recorded in Esperanto, this bizarre supernatural art-horror epic, hailed by Famous Monsters founder Forrest J. Ackerman as "the movie-watching event of a lifetime," actually benefits from the presence of a pre-Star Trek William Shatner, whose operatic style somehow conforms to the story's deranged logic. Shatner plays Marc, a man lost in the mythical land of Nomen Tuum where he comes under psychic attack from both the evil witch Kia (Allyson Ames) and the title demon (Milos Milos), who procures female souls for Satan. The filmmakers reportedly adopted the "universal language" of Esperanto to give the dialogue a mystical feel, but the end product may leave audiences wondering if the entire project is an elaborate put-on. Thoroughly strange, Incubus is certainly not without merit: the film's strength comes primarily from sumptuous location cinematography by Conrad Hall, who may have taken inspiration from the works of Ingmar Bergman and Akira Kurosawa. Believed lost, the only surviving negative of this oddity was eventually rescued from 30 years of oblivion and released to home video.
Critic Reviews for Incubus
Audience Reviews for Incubus
½
Incubus claws a star and a half out of my hands for the cinematography. This film is gorgeous, I won't fight anyone on that. The high-key lighting gives the settings, simple little locations in some woodsy area of California, the almost mythical appeal that the film strives for; internal sets are shadowy with flickers of that same light, conveying menace where everything else here fails to. The acting, for one thing, is utterly ridiculous. How are you supposed to take these people seriously when they don't even know what they're saying? You may as well be watching a bunch of fools babble for 80 minutes and then superimpose a set of improvised subtitles of your own choosing. Unless you speak Esperanto (and who the fuck does?) what you're hearing and seeing essentially is meaningless. But if you play along with the script, then all you really get is a ludicrously over-the-top war of purity and temptation, senseless and unsatisfying and culminating with a really aggressive goat. If it weren't so pretty and so boring, it could almost pass as camp, what with its profoundly wrongheaded hook and the subsequent commercial disaster it left in its wake. Unfortunately, I fell victim to appearances - Incubus is nowhere near as interesting or as bizarre as it sounds.
Drew Smith
Super Reviewer
½
Why would Star Trek star William Shatner agree to be in an horror movie where he would have to speak Esperanto is beyond me, but for some reason I loved it. It's a very atmospheric, creepy, and unique horror film. If you're intrigued by any of this, I highly recommend checking out this movie.
Move over, Mel Gibson. You weren't the first to make a film in a dead or near dead language. Leslie Stevens got there before you. This film was made in Esperanto, a language that...well, I can't explain how it came about. Look it up. The story concerns a young woman named Kia who is a "Succubus", sent from Hell to lead evil men to their doom with her sexuality. She grows tired of leading bad guys who are going to end up in Hell eventually anyway. She wants to tempt someone pure of heart and soul. Enter Marc, in the manly form of William Shatner...yep, THAT William Shatner, the year before he became Capt. Kirk. Things don't go as planned and she ends up falling in love with him. I was interested in this film because it sounded so campy and bad. But this odd film ended up holding my attention more than I expected it to. Shatner is of course Shatner, even in Esperanto. But the film has a Bergmanesque quality to it, from the lighting, pacing and camerawork, to the religious themes, to even most of the females leads being blonde. I think if Roger Corman had grown up in Sweden, this is the type of film he may have come up with.
Incubus Quotes
There are no approved quotes yet for this movie.