The Siege
(1998)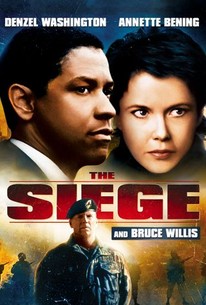 Movie Info
Edward Zwick directed this action thriller about Islamic militants unleashing terrorism in New York City. As FBI Terrorism Task Force-chief Anthony Hubbard (Denzel Washington) investigates, a false-alarm bomb threat is followed by a legit bomb, with many killed when a Brooklyn bus explodes. Agents track a suspect through Brooklyn, while Hub teams with Middle East expert and NSA operative Elise Kraft (Annette Bening). After the FBI wipes out three Arabs in a Brooklyn apartment, an explosion in a Broadway theater is followed by attacks on a school and FBI headquarters. When the President declares martial law, neo-fascist Army General William Devereaux (Bruce Willis) swings into action, deploying tanks through Brooklyn, capturing Arab-American males, and herding them into an open-air stadium detention camp. Hub's Arab-American FBI associate Frank Haddad (Tony Shalhoub) is disgusted and quits when his son becomes one of the Arab detainees. With the Army out of control, the power-crazed Devereaux devises plans for torture and murder, turning his attention to Hub and Elise. President Bill Clinton is seen denouncing terrorists in TV clips. ~ Bhob Stewart, Rovi
Critic Reviews for The Siege
Audience Reviews for The Siege
Well back in 1998 this entire premise seemed quite far fetched, virtually in the realms of fantasy by the kind of overly paranoid Yanks that stockpile guns and tinned food. Then unfortunately the unthinkable happened as America was indeed attacked and hit hard on their own turf with the dreadful September 11, 2001 terrorist suicide bombings of the World Trade Center in New York. It is only now that this film really does have a much darker meaning with the events of the movie disturbingly realistic when once thought of as hyper reality. The story simply sees New York under threat from terrorists in random attacks across the city by an unknown force suspected to be Arabic. Its up to Denzel Washington and Tony Shalhoub to track down and stop the attackers before things get out of hand. Of course things do get way way out of hand as the attacks become more ferocious and the FBI's leads dwindle. In the end the military are drafted in as martial law is declared with Brooklyn locked down around the Arabic community. Apart from the very real threat of terrorist attacks anywhere at anytime the films main focus is on racial profiling, hardcore stereotyping and prejudice. There is a strong morality tale between good and evil that not only covers the obvious but the use of Nazi-like tactics by American troops on Arabic/Muslim American citizens as they are rounded up and detained in mass makeshift holding areas. I really don't need to go into the obvious concentration camp connections here do I. But there is more as we also get Bruce Willis (badly miscast) as a Major General who is intent on getting information out of suspects in any way possible, illegally of course. Here you see the little twist of the Yanks being no better than the terrorists they are fighting, becoming what they fear and stand against, taking away the right to a court of law, innocent before proven guilty, liberty and justice, human rights go bye bye. When the shit hits the fan and terror is taking control of the streets, power is granted to various officials, its then that we see the darker side of some people. Willis' character has the orders to basically protect his country and the American way of life by any means necessary, do what needs to be done whilst the upper echelons look the other way. Of course Washington's character stands firm and will not allow this kind of behaviour to carry on, there are still laws and rights. Gotta be honest though at times you do feel he is being too PC considering the circumstances, he's almost too heroic and saintly when in reality someone might buckle. The message is forced even more once Shalhoub's sons is also rounded up and taken away causing him to toss his badge. The message slaps you across the face sure but it works effectively. This being a Washington movie you know its gonna be decent, you just know...and this doesn't disappoint. Visually its very slick and effective in getting across its now very realistic message. The only let down for me was probably Bening who didn't really fit her part in my opinion, she comes as someone more concerned about their hair looking right plus her plot setup with the Middle Eastern chap is too obvious really. Tension is reasonable but the film is a little too mainstream for you to actually start sweating over the outcome, its not like Washington is gonna bite the bullet is it, everyone else is fair game but not Denzel. The ending is way too God bless America for my liking, although expected. Too neat and tidy as all the citizens are released with schmaltzy hugging scenes and Washington preaching about their forefathers and how they fought and died for the life they have today. He's right sure but it feels too much like an all American Boy Scout speech, you half expect the Star-Spangled Banner to kick off with fireworks in the sky. As said its funny how back in 1998 this all seemed so unlikely, the notion that the US could be attacked on their own soil in such a devastating way. This whole martial law scenario and the rounding up of specific people was always possible but it still felt more like an old World War II flashback. These days the entire aspect has come true to a certain degree although not as bad as depicted in the film, its a much easier prospect to see becoming a reality within the US these days that's for sure. In the end the story boils down to the terrorists winning on a psychological level simple because the US way of life has been changed dramatically. Justice and democracy have gone out the window, fear and suspicion sits in its place.
Phil Hubbs
Super Reviewer
Elise Kraft: It's never the question that's indiscreet, just the answer.  "An enemy they can't see. A nation under siege. A crisis they can't control." I can certainly see why there are all the negative reviews for The Siege, but I can't say I didn't like it. I didn't like aspects of it, but as a whole it was a thoroughly engaging and entertaining movie. It just didn't have a whole lot more to offer the audience. The movie seems to saying contradicting things at the same time and the movie is filled to the brim with wise ass, but bad jokes. Like the joke of Bruce Willis as a General and the dialogue that comes out of his mouth. That was a bad joke. When the U.S. secretly kidnaps a terrorist; a string of terrorist acts start to occur in New York. An FBI agent is then in for the ride of his life as he tries to stop all the different cells of the terrorist group from executing their destruction. Soon the crisis gets so far out of hand, that martial law is enacted in Brooklyn and people of Arab descent are quarantined. The movie is a little eerie in that it was made 3 years before 9/11, but also because of the whole tie in with WW2 and the detainment camps that were made for the Japanese. As far as the movie goes, it's just descent. Denzel Washington gives a performance that you would expect from him. He's doing pretty much the same thing as he did in... well, everything. He plays the strong FBI man of morals with intensity and fire, and makes the movie go down a lot easier than it should. I can't say the same for Annette Benning, who I thought was surprisingly bad, and Bruce Willis, who just seemed ridiculous.  In the end, I got enjoyment from Zwick's ridiculously plotted and written film; but I still see it exactly for what it is. It's not a movie that was sending anyone messages about terrorists or that has any importance in the world at all. It's purely entertainment and that was its and purpose. So, on that level it isn't a complete failure.
Melvin White
Super Reviewer
Somehow most fail to realize that if the lead character had stayed out of the CIA and military's way thousands of lives could have been saved. The directors attempt to stick it to the man backfires spectacularly and ends up making himself and the movie look childish and reeking of pseudo-intellectualism.
Joe McCall
Super Reviewer