The Impostors
(1999)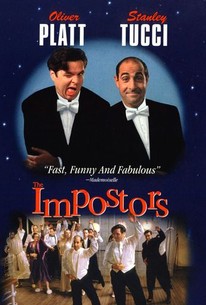 TOMATOMETER
AUDIENCE SCORE
Critic Consensus: The Impostors might have benefited from a more consistently witty script, but writer-director Stanley Tucci acquits himself nicely as an orchestrator of screwball comedy in this uneven debut.
Movie Info
Actor Stanley Tucci made his directorial debut with a strong cast in this Depression Era farce focusing on two struggling two New York actors. In opening scenes, Maurice (Oliver Platt) and Arthur (Tucci) fabricate a fake fight at an outdoor cafe, do acting exercises, audition for a theater director (Woody Allen in an uncredited cameo), stage a pastry shop argument (to get food), and watch over-the-top, Barrymoresque actor Jeremy Burtom (Alfred Molina) on Broadway in Hamlet. Later, Burtom overhears himself insulted by a drunken Maurice and gives chase, forcing Arthur and Maurice to hide in a box. When they awaken, the box has been moved onto a luxury liner bound for France. To evade Burtom, they pose as stewards, meeting passengers and crew members: Staff director Meistrich (Campbell Scott) fancies head stewardess Lily (Lili Taylor), who goes for ship detective Marco (Matt McGrath). Others on board include Greek wrestling enthusiast Sparks (Billy Connelly); a former European queen (Isabella Rossellini); a suicidal lounge vocalist (Steve Buscemi); and a revolutionary (Tony Shalhoub) planning to bomb the liner. Shown in the Certain Regard section at the 1998 Cannes Film Festival. ~ Bhob Stewart, Rovi
Critic Reviews for The Impostors
Audience Reviews for The Impostors
Campbell Scott is hilarious in the supporting role and ends up stealing every scene he is in.
Brendan O'Connor
Super Reviewer
½
This is a star studded tribute to the slapstick comedic farces of the 1930s, and a real labor of love for its writer/director/producer, and star Stanley Tucci. He, along with Oliver Platt, play a Laurel and Hardyesque pair of out of work actors struggling to scrape by in Depression-Era NYC, mostly by way of petty cons and swindles. After incurring the wrath of an overrated drunken actor, the two mistakenly stow away aboard an ocean liner where the actor after them also happens to be. And not only do they get caught up with having to avoid him, but they find themselves continually caught up in a series of ever escalating over-the-top madcap shenanigans involving the eclectic passengers and crew of the ship, many of whom aren't what they initially seem, hence the film's title being The Impostors. In many ways this feels like a high class Woody Allen film that Woody didn't write and direct. Interestingly enough, he actually makes a hilarious uncredited cameo here. This is a real love letter to the 30s slapstick comedies, as well as the silent era, as evidenced by the film's opening scene. All in all I liked it. I'm not a huge fan of slapstick, but I found this to be overwhelmingly charming, funny, and absurd. There's really not much of a plot, but I think that's more of a benefit than a detriment. It's really hard to care too much about many of these people, but I don't think that's the point. I think the main focus is just on the absurd and ridiculous comedy of life, and how existence is full of all kinds of diverse and nutty people. And the cast is where this film really shines. Besides Tucci and Platt, there's also Steve Buscemi, Billy Connolly, Campbell Scott, Allison Janney, Richard Jenkins, Alfred Molina, Elizabeth Bracco, Lili Taylor, Hope Davis, Dana Ivey, Tony Shaloub, Isabella Rossellini, and a few others I'm probably forgetting. They all seem to be having an absolute blast here, and exhibit some great chemistry, as well as a flair for the material. The period details are pretty decent, there's a wonderfully nostalgic score, and the overall sense of energy and fun is just bursting all over the place. It did take me a bit to get into things, and I was a bit taken back until I realized what type of movie this was going to be, but once I got into it, and things really kicked in, I ended up having a pretty good time, and think you might enjoy it as well.
Chris Weber
Super Reviewer
A great SciFi with a twisting end which will blow your socks off. lol
The Impostors Quotes
There are no approved quotes yet for this movie.