Virus
(1999)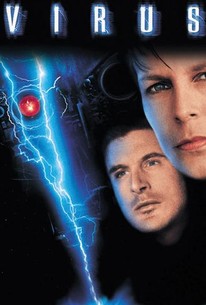 Movie Info
When the salvage tug Sea Star is caught unprepared in a violent storm, it slowly sinks, and the crew, led by Captain Everton (Donald Sutherland), wander upon another ship for refuge. The ship, apparently deserted, turns out to be a Russian research vessel loaded with high-tech electronics. The Sea Star crew, which includes hot-head Kelly "Kit" Foster (Jamie Lee Curtis) and Steve Baker (William Baldwin), soon find that they are not alone, and they also learn the horrible fate of the original crew. The ship had taken on an energy-based alien life-form capable of constructing bodies out of human tissue as easily as electronic parts. The life-form wants to inhabit the planet earth but first must rid the world of the virus that infects it and could kill it -- man. John Bruno, special effects supervisor on Terminator 2 tries to reinvent the haunted house sub-genre in his directorial debut, much as Ridley Scott did in Alien.
Audience Reviews for Virus
This is a good sci fi horror flick. The scares are there and so is the action.
Jason Spencer
Super Reviewer
½
an alien intelligence takes over a high tech russian boat and plots to TAKE OVER THE WORLD (hey, that NEVER happens, pesky alien scum!)...so stop thinking too hard and try to enjoy this adolescent thrill ride in the just-cause-i'm-a-bigtime-hotshot-actor-don't-mean-i-ain't-got-bills-to-pay spirit in which it was intended. who says fun has to be smart?
Kevin M. Williams
Super Reviewer
This movie just doesn't work with an alien droid thing aboard a creepy ship. It's a dark ugly movie with a few thrills, but nothing too scary.
Lafe Fredbjornson
Super Reviewer
Virus Quotes
| | |
| --- | --- |
| Hiko: | [After knocking out the robot that attacked them that Richie awoke] Touch it again, I'll cut your hands off. |
| Richie: | I can respect that.... |