Life
(1999)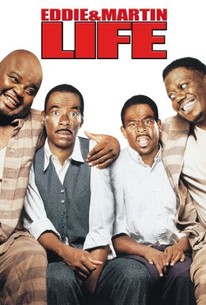 Movie Info
Comedians Eddie Murphy and Martin Lawrence team up for a story that wouldn't appear to have many immediate humorous possibilities -- two men serving life sentences in prison for a crime they did not commit. Life opens in Harlem in 1932, where Ray Gibson (Eddie Murphy) is a small-time con man in debt to Spanky, a gangster (Rick James). Ray spots would-be bank teller Claude Banks (Martin Lawrence) at a gambling spot and, figuring him for an easy mark, lifts his wallet -- only to discover Claude is broke. Ray and Claude's mutual need to raise some cash brings them together when Spanky offers them a job bringing back a load of moonshine from bootleggers in the deep south. However, things don't go well for Ray and Claude, and they're arrested by a sheriff in Mississippi who recently killed a man and needs someone on whom he can hang the charge. Since Ray and Claude are black, from out of town and have been caught red-handed with a load of illegal liquor, the sheriff figures they're easy pickings and frames them for the murder. Soon the two men are inmates in a Southern work camp, where they spend the next 55 years learning to get along with the other inmates, avoiding the wrath of the guards, seeing younger prisoners come and go and never losing hope that someday, somehow, their innocence will be proven and they'll be released. Life is the second screen pairing for Murphy and Lawrence, who also shared screen time in 1992's Boomerang, and was scripted by Robert Ramsey and Matthew Stone from an original idea by Murphy. The supporting cast includes Ned Beatty, Clarence Williams III, Bernie Mac, Nick Cassavetes and R. Lee Ermey.
News & Interviews for Life
Audience Reviews for Life
½
The film is difficult to hone in as a comedy or drama. Despite its obvious flaws Life still is tightly held by the dynamic performances and chemistry of Eddie Murphy and Martin Lawrence. 3.5/5
Eugene Bernabe
Super Reviewer
½
If you go to the movies to be entertained, it doesn't get much better than this. It certainly is no serious take on a subject that would be all-too serious elsewhere, but the double entendre of the title belies the reason, besides all the talent present, why this film works so well. While on the surface, Claude and Ray are sentenced to life in prison for a crime they didn't commit, the real story here is about life-the ups and downs, the choices you make, and the friends you sometimes can't stand but ultimately depend upon along the way. Both Eddie Murphy and Martin Lawrence became known for, along with being very funny, the characters they create. Murphy with the Nutty Professor characters, demonstrates serious acting ability while creating laughs. They don't do that so much here, but these guys age from mid-20s to 90s convincingly. Their love-hate "old married couple" bickering will leave you in stitches. The rest of the cast is as underappreciated as this movie is in general. They're hilarious and memorable. I've been repeating Bernie Mac's lines and the "cornbread" scene for years. Casting R. Lee Ermey as the racist bad guy was genius too. Watch this movie please, and if you've seen it watch it again. I was prompted to write this review having just seen it uncut for the first time. While the edited version delivers the plot well enough, you'll laugh along with the theatrical version much more. They're "keepin it real!"
Clintus Maximus
Super Reviewer
½
Typical, if better-than-average, buddy movie about a pair of would-be bootleggers framed for murder and sentenced to life imprisonment. The stars carry the proceedings with some nonstop bickering, but occasionally one of the supporting cast members gets an all-too-brief moment to shine.
Kevin M. Williams
Super Reviewer