Go
(1999)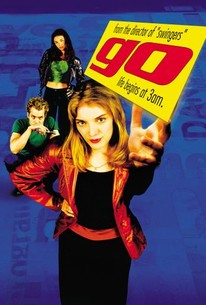 Movie Info
Eighteen-year-old Ronna (Sarah Polley), accompanied by reluctant partner-in-crime and fellow supermarket checkout clerk Claire, is desperately looking to score some rent money before she's evicted. Simon, an impulsive Brit, is driving a stolen car with buddy Marcus during a wild night of partying on the Las Vegas strip. Adam and Zack, a pair of TV stars, find themselves in the middle of a real-life drug sting-and a very creepy Christmas dinner. Where are we? Who are these people? Welcome to the edgy comedy GO, in which the outrageous misadventures of a group of young people collide in Los Angeles' raucous underground scene.
Audience Reviews for Go
½
In my mind, films from the 1990's almost have their own genre as to what material is explored throughout. Like today's day and age, the 90's had it's own feel. We have a lot of big blockbuster superhero films, and the 90's had a tons of teenage hangout pictures. "GO" puts a spin on that story and has a very Pulp Fiction-esque type of vibe as far as storytelling goes. For many more reasons than one, this is a much easier film to watch than "Pulp Ficton," as the fun element is cranked up to a million. Telling the same story over and over again through different perspectives can be a disaster waiting to happen, and while not every piece of the puzzle fit for me, they did about 90% of the time. "GO" is a very smart film that you do not need to think about very much, and those are two things that I think makes a film brilliant. "GO" is one of the rare films that has definite repeat value for me. Such a lovable little film. Highly recommended!
Acting as both cinematographer and director, this is Doug Liman's third film, and, out of all the films that came out during the mid-late 90s that took major influence (if not outright stole) from Quentin Tarantino, this is probably one of the best, especially since it actually manages to stand on its own. Full of tons of style and energy, this is a wild and darkly funny romp that was one of the first film to really highlight the club drug ecstasy. What we get here are three interconnected stories that begin at a supermarket, take place over the course of 24 hours or so a few days before Christmas, and feature several employees at said supermarket, with a major thread linking them together being each person's role in/connection to a potentially fruitful drug deal. The main players include two actors trying to keep out of trouble, a wily Brit who wants to live it up in Vegas, a desperate girl hard up for money, a cop with questionable morals, and a rather volatile drug dealer. We also get a gang of goofy friends, a supportive best friend on the verge of corruption, and a psycho club owner. One of the many notable things about this film is the ensemble cast, many of whom are made up of then up-and-comers mostly known for TV work. Jay Mohr and Scott Wolf are the actors, Sarah Polley is the girl who needs money, Desmond Askew is the Brit, William Fichtner is the cop, and Timothy Olyphant is the dealer. Breckin Meyer and Taye Diggs are two of the goofball friends, Katie Holmes is the supportive bestie, J. E. Freeman is the club owner, and, oh yeah, Jane Krakowski is the cop's wife. There's even a literally seconds long appearance from a pre-fame Melissa McCarthy. The acting is pretty good, and maybe better than you'd expect. The characters are colorful, most have some pretty good character arcs, and they're all a lot of fun to watch. The film has several wild scenes of excess, debauchery, and the madness that sometimes comes with partying, and they're done well, and, unlike Fear and Loathing in Las Vegas, get the point across without being so gloriously ugly and unpleasant, thanks to some good direction, camerawork, and editing. The soundtrack is also really good, and really helps bring the proceedings to thumping, pulse-pounding life. All in all, this is a really good film. It seems fairly underrated to me, which is kind of unfortunate. It's not perfect, but I think it's decent enough and deserving of more attention.
Chris Weber
Super Reviewer
"A weekend wasted is never a wasted weekend." Told from three perspectives, a story of a bunch of young Californians trying to get some cash, do and deal some drugs, score money and sex in Las Vegas, and generally experience the rush of life.
REVIEW
"Go" tells three separate stories linked together by a drug deal gone wrong. One concerns a first-time dealer hoping to secure rent money, another concerns a group of pals on a road trip to Vegas and the last concerns a gay couple coerced into co-operating with a sting operation. The narrative approach is similar to films like "Pulp Fiction", wherein multiple story lines contain some common element(s) and intersect at times throughout the film. John August's script uses this approach well and manages to tell a story that is clever and unpredictable. The direction by Doug Liman is also well-handled and shows some inventiveness without being overindulgent. Additionally, the soundtrack is skillfully assembled and fits the film's atmosphere perfectly. "Go" features a first rate cast of actors who ease nicely into their roles and slide into that fine balance between seriousness and humor that the screenplay establishes. In a similar way, the film itself glides fluidly between past and present, drawing, again like "Pulp Fiction" a giant narrative circumference around the action. It may take awhile for a viewer to capture the rhythms of the film, but, by sticking with it and following it along on its unorthodox course, that viewer will be handsomely rewarded.
Lorenzo von Matterhorn
Super Reviewer
Go Quotes
| | |
| --- | --- |
| Claire Montgomery: | You know what I like best about Christmas? The surprises. I mean, itâ??s like you get this box and youâ??re sure you know whatâ??s inside of it. You know. You shake it, you weight it, youâ??re totally convinced you have it pegged. No doubt in your mind. But then you open it up and itâ??s completely different. You know. Wow, bang, surprise! |
| Claire Montgomery: | You know what I like best about Christmas? The surprises. I mean, it's like you get this box and you're sure you know what's inside of it. You know. You shake it, you weight it, you're totally convinced you have it pegged. No doubt in your mind. But then you open it up and it's completely different. You know. Wow, bang, surprise! |