Purgatory
(1999)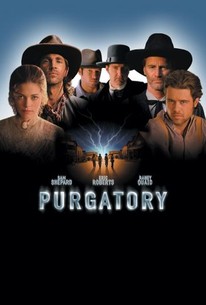 AUDIENCE SCORE
Critic Consensus: No consensus yet.
Movie Info
In this fantasy set in the Old West, Blackjack Britton (Eric Roberts) is an outlaw on the run from police after a bank robbery. Britton and his gang wind up in a small town called Refuge, where things are rather unusual -- outlaws are warmly welcomed and offered free food and lodging but warned not to swear, and none of the residents carry guns, including Sheriff Forrest (Sam Shepard). Britton and his gang notice that Sheriff Forrest bears a striking resemblance to the famous gunfighter Wild Bill Hickock, who died some years ago. Elsewhere in Refuge, Britton's gang meets dead ringers for such late, great outlaws as Doc Holliday (Randy Quaid), Billy the Kid (Donnie Wahlberg), and Jesse James (J.D. Souther). Britton learns that Refuge is actually Purgatory, where the gunfighters are stranded between Heaven and Hell, hoping to hoping to find a redemptive grace that will bring them salvation as they struggle not to backslide into final damnation. Soon Britton's gang becomes restless, and the men of Refuge may have to return to their guns if they are to protect the town. Produced for the TNT cable network, Purgatory also features Peter Stormare, Brad Rowe, and Richard Edson. The film is also available on home video in a Spanish subtitled edition.
Critic Reviews for Purgatory
All Critics (3) | Fresh (1) | Rotten (2) | DVD (1)
Finds a fairly novel way in which to mix some of the classic old-school characters with just a dose of otherworldly weirdness. I dug it.
...the story manages to inject a much-needed shot of adrenaline into a dying carcass.
Audience Reviews for Purgatory
Uli Edel drops some fantasy into a western atmosphere in Purgatory.
This isn't a 90 minute sprint around the track by any means, but for a film that does harness a slower pace, the cloudiness and sense of mystery stirs up enough intrigue to keep the story afloat.
The film may kick off with a bang; however, there isn't much in the way of bullets flying around, which leaves the feeling that this is lesser than an action picture. Fortunately, the final act makes up for it all.
The cast is strong and it shows. Sam Shepard was born for his role and Eric Roberts proves to be an excellent adversary. Peter Stormare, Randy Quaid, J.D. Souther, and Donnie Wahlberg fill up the supporting cast nicely. Amelia Heinle is a sight for sore eyes in a film full of gun-slinging cowboys.
Purgatory fits the bill as a western with a unique flavor, thus making it a recommendable film.
Purgatory Quotes
There are no approved quotes yet for this movie.