The General
(1998)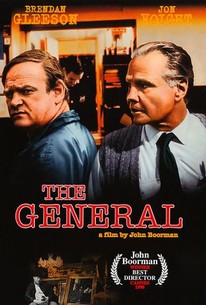 Movie Info
Hollyfield was a Dublin slum where the rejected, the derelict and the anti-social were housed. Young Martin Carhill grew up in a milieu where crime was the main occupation. He was sent to a correction school when caught stealing food for his family. Abused by priests and the police, he grew up with a resentment of authority. Throughout his adult life, Martin Carhillderived satisfaction from making fools out of authority figures. He organised a number of daring and carefully planned robberies, gaining the sobriquet, 'The General'. Hollyfield was a no-go area for the police and the fierce loyalties of its inhabitants protected Cahill. However, at the behest of his wife Frances and her sister Tina, he bought a house in the middle class district. He then came under the scrutiny of tax officials. He over-reached himself when he and his gang stole paintings from Russborough House. With public and political pressure mounting, the police started a surveillance operation headed by Ned Kenny, a man who admired Cahill but was determined to break him. His potent mix of violence and humour and generosity made him a legend in his lifetime, a legend that has grown largely since his death.
Critic Reviews for The General
Audience Reviews for The General
½
A criative screenplay and terrific direction, just like the acting, The General is a great motion picture. Fresh.
Lucas Martins
Super Reviewer
I thought the movie is about some military general. And quite a brave one for that matter, when the beginning describes him as a legend. Apparently, I was amazed when it turned out about some legendary Irish criminal who pulled out heists outwitting the legal authorities. While ruthless and mean to the rest of the world, Martin Cahill cared enough for his family. He even extended his generosity to his sister-in-law. The way he embarrassed the police authorities was a stroke of brilliance. Jon Voight, playing Ned Kelly, does fair enough as an Inspector who is now and again left in an embarrassing position by Martin as he seems to get a kick out of it. Brendan Gleeson portrays Cahill outstandingly. He's simply par excellence. However, his covering the face with one hand constantly caused me a bit of irritation initially. But after a while, I got used to it. How's one to know (if need be, let it be known that there are always exceptions) that the legendary Martin too used to do so for real. Quite an intriguing & worthwhile stuff, and that too based on real events. Sufficient & efficient enough for me. Might not have been so appealing with the foreknowledge about this incredible scumbag, infamously known as The General.
familiar stranger
Super Reviewer
A thief, pursued by an old friend from the neighborhood, evades the cops and the IRA. Brendan Gleeson is fantastic as the eponymous character; he's both awkward and wily, not looking the part of the thief but pulling it off believably. The rest of the supporting cast supports Gleeson admirably, but even Jon Voight doesn't deliver a stand-out performance. The story is fairly basic -- a crime drama in which the criminal cleverly eludes his pursuers -- and I can't say that by the end of the film I cared about the characters. The film is so evenly presented that I wondered what it was saying. What is unique about this criminal that we haven't seen before besides his physique (compare Gleeson to George Clooney's Danny Ocean)? Overall, there's not a lot to feel strongly about in this film except Gleeson's superb performance.
Jim Hunter
Super Reviewer
The General Quotes
There are no approved quotes yet for this movie.