Friends & Lovers
(1999)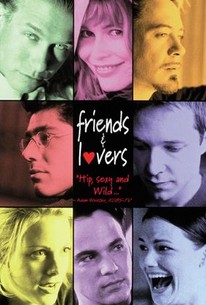 Movie Info
The Christmas holidays are fast approaching when Los Angeles native Ian (George Newbern) gets an unexpected invitation from his father (David Rasche) to join him for a vacation in Park City, Utah. The two don't get along especially well, but Ian goes partly in hopes of patching up the relationship, and partly because his friends figure it would be a nice vacation. In fact, they're so convinced that several of them end up tagging along. Good looking guy Jon (Stephen Baldwin) is determined to seduce good looking gal Carla (an obviously well-cast Claudia Schiffer), despite heavy competition from German ski instructor Hans (Robert Downey Jr.), while David (Danny Nucci) is equally determined to do something about his pesky virginity. Meanwhile, Keaton (Neill Barry) discovers his sister (Suzanne Cryer) is dealing with an unplanned pregnancy, and she wants Keaton to resolve his issues with their father before it's too late. But Keaton has other emotional issues to deal with when he finds out his longtime friend Lisa (Alison Eastwood) wants them to move past friendship into a deeper relationship. This romantic comedy-drama was the debut feature from writer/director George Haas.
Critic Reviews for Friends & Lovers
Audience Reviews for Friends & Lovers
For the most part it's a completely worthless movie, but it does contain the complete and utter brilliance of RDJ as Hans. His character is amazing and one of the most hilarious and outrageous bit performances of all time. His nutball German accent and frosted hair is unforgettable. It's a shame the movie couldn't have revolved around him, that would have been something to see. Sadly, this movie is haunted by Stephen Baldwin and an ensemble cast that is anything but good.
Conner Rainwater
Super Reviewer
Friends & Lovers Quotes
There are no approved quotes yet for this movie.