Joan of Arc
(1999)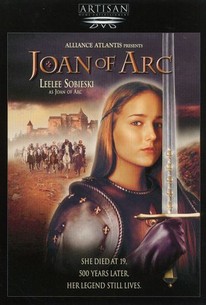 Movie Info
A literal interpretation of the oft-produced biography of 15th century historical heroine Joan d'Arc, this four-hour television miniseries version of Joan's story is lavishly produced. In a tiny village during the Hundred Years' War, teenager Joan d'Arc (Leelee Sobieski) has been raised by her parents, flinty Peter (Powers Boothe) and Isabelle (Jacqueline Bisset), amidst the wreckage continually wrought by British incursions into the area. A devout girl, Joan experiences visions of St. Catherine, which lead her to believe that she may be the "Maid of Orleans," a mythical figure who will lead France to victory over its enemies. Counseled by local priest Father Monet (Robert Loggia), Joan pursues her destiny in spite of her father's wishes. At first supported only by lowly commoners, Joan comes to the attention of the Dauphin, King Charles (Neil Patrick Harris). Together with his scheming advisor Bishop Cauchon (Emmy-winner Peter O'Toole), Charles uses Joan to unite his quarreling factions. Skeptical but superstitious, Charles' generals, including La Hire (Peter Strauss) are eventually won over by Joan's startling victories. But awaiting Joan is a disastrous Parisian campaign and Charles' betrayal.
Critic Reviews for Joan of Arc
All Critics (10) | Top Critics (1) | Fresh (1) | Rotten (9)
By downplaying just how many borders she transgressed, this Joan of Arc ends up muddling the deeper reasons why our daughters love her more than Robin Hood.
Sobieski doesn't have a clue.
July 29, 2004 | Rating: 1/5
Leelee Sobieski plays Joan of Arc as a valient youg woman whose ardent faith and courage are put on display on the battlefield and in court.
Audience Reviews for Joan of Arc
½
See the Milla Jovovich version. Spielberg produced this one I think.
Sean Gillespie
Super Reviewer
This long TV movie is really powerful, great story, wonderful cast, memorable quotes and great locations. I love the historical and biopic of Joan of Arc at the first time that I ever saw and the portrayal of Joan is created perfectly by a young and beautiful actress, Leelee Sobieski.
Dean McKenna
Super Reviewer
Joan of Arc Quotes
There are no approved quotes yet for this movie.