Underground
(1995)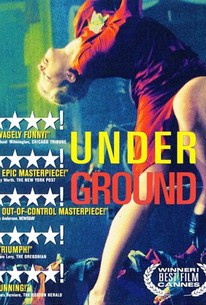 TOMATOMETER
AUDIENCE SCORE
Critic Consensus: Offering an insightful look at Communist Eastern Europe through the microcosm of a long friendship, Underground is an exhausting, exhilarating epic.
Movie Info
This allegorical European black comedy examines the past 50 years, between 1941 and 1992 in Yugoslavia's history. The subtitled film is over three hours long, and is divided into three segments. The protagonists are band-leader Marko and his best friend Blacky who in Belgrade, 1941, were simultaneously communist patriots and racketeers. When the Nazis invade Belgrade, the men take their families down to an enormous wine cellar where the rebels have set up an underground munitions factory. There Blacky's wife dies while giving birth; he later begins wooing an actress who throws him over for a Nazi, whom Blacky shoots. Unfortunately, the German survives and Blacky is arrested. Fortunately, Marko saves him, and as his friend recuperates from the torture, Marko sleeps with the actress. Even as the Allied bombers destroy the remains of Belgrade, the treacherous Marko convinces the subterranean refugees that the war is still in effect and that they must continue making arms to be prepared when Tito calls for them. Twenty years pass, and the refugees, living on dog food, are still hard at work, cheerfully making guns to save their country. Meanwhile, Marko has become an prominent party official. He and his wife, the actress, continue to sell illegal arms and drugs. The situation for them is very good until Marko's brother discovers his treachery and all hell breaks loose.
Critic Reviews for Underground
Audience Reviews for Underground
One of the best films I ever saw. A surreal, poetic, unique and dark comedy about war, pride, friendship and illusion. An controversial epic of Emir Kusturica.
Lucas Martins
Super Reviewer
One of the best black comedies I have ever seen! Comedy typically doesn't do so well with war time settings; but, with such characters, you can't help but laugh.While Yugoslavia as a country may no longer exist, its essence and spirit live strong.
Stefanie C
Super Reviewer
½
Totally surreal tale of two brothers' resistance against the German occupation of Yugoslavia. They form an underground society to help the communist effort by producing weapons. This is an epic film that covers 50 years in three hours as the crazy Serbs continue their fight against the fascist foe right up to the civil war.
Ross Collins
Super Reviewer