The Phantom of the Opera
(1990)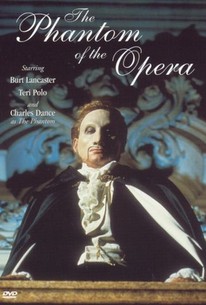 AUDIENCE SCORE
Critic Consensus: No consensus yet.
The Phantom of the Opera Photos
Movie Info
Originally shown on the NBC television network, presents Leroux's tortured anti-hero not as a terrifying madman or a closet romantic, but as an angry young man who vents his rage at being born disfigured not with murder but by playing practical jokes within the Paris Opera House, beneath which he has fashioned a magical world of his own, a world to which he brings the terrified singer Christine.
Critic Reviews for The Phantom of the Opera
All Critics (2) | Fresh (1) | Rotten (1)
Una de las mejores versiones, pese a lo distinto de la obra original. Un Burt Lancaster genial y una fotografía espléndida de la verdadera Casa de la Opera.
August 4, 2002 | Rating: 8.5/10
Audience Reviews for The Phantom of the Opera
½
This decent TV movie version adapted from Arthur Kopit's play - which in turn is considerably distinct from the original story by Gaston Leroux - features a great performance by Burt Lancaster, a good art direction and a nice score by John Addison.
Carlos Magalhães
Super Reviewer
½
many people say this is thier Favorite addaptions of POTO mostly b/c the Phantom is "KINDER" guess what people!? The Phanotm *if you accually would read the book and susan kays novel Phantom* YOU WOULD KNOW THAT THE PHANTOM IS NO SUPPOSE TO BE "KIND!!" I always saw Erik as a mad genius with an amazing sence of humor! Thats what I missed in this Phantom was his almost insulting humor. Also, Eriks mother did not love him. In both of the books i mentioned above it tells how much she dispised his face! and how ugly he was. I did enjoy watching Charles Dance. He has a nice voices (I know he didnt accually SING) It annoyed me that EVERYONE SEEMED TO LIPSINK!! ugg it was terrible!! This Christien had me on the fence. I LOVED that she seemed more connected to Erik but then she goes and plays that IF YOU LOVE ME card waaaaay to much! she was almost Bipolar in her choices!! ugg that kinda bugged me. Do the producers think that if they change Raouls name to Phillipe people will hate hime less?? WRONG! lol. ONe part were i was LMAO was when the were in the "forest" with all those dead animals!!! and after Christine faits Erik goes and knocks over a dear! I completely cracked up! **I had strong issues with the ending.** i will not spoil it tho. Although this is not my favorite addaption (I think i will just never b satisfied) I did not find it unenjoyable. The singing *although its not coming from the actors,* is top notch. And Charles Dance is quite Charming! If you are such a phantom phan as i would recomend seeing this flim.
Morgan Salem
Super Reviewer
My favorite adaptation of The Phantom Of The Opera. I have seen many versions of the same story, and I enjoy this one the best. It was done very nicely and it didn't lag, for being a longer version.
Marion Ravenwood
Super Reviewer
The Phantom of the Opera Quotes
There are no approved quotes yet for this movie.